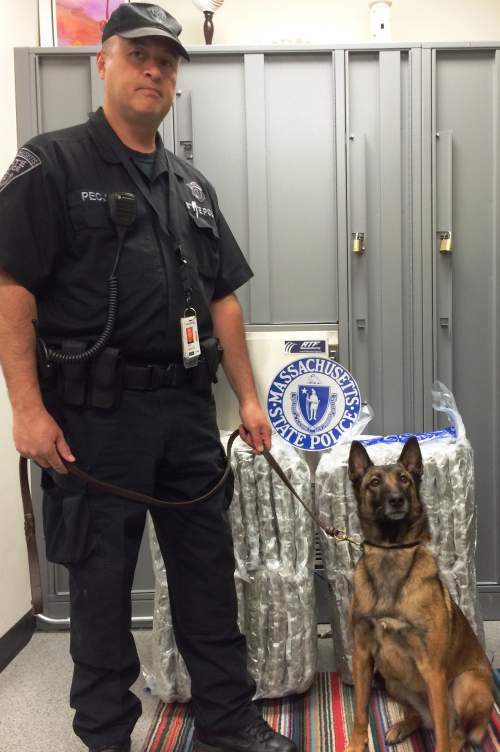 Yesterday evening Massachusetts State Troopers and DEA Agents assigned to the Logan Airport Task Force, based on intelligence gathered during an investigation, were waiting for a California man who was arriving on a Delta flight from San Francisco. Information developed by the Task Force with the assistance of Randolph Police indicated that the man would be carrying a large amount of marijuana.
At approximately 5 p.m., the flight landed as Task Force members conducted surveillance in the terminal. Troopers and agents observed the passenger, identified as TRANG PHAM, 31, of San Jose, exit the plane and approached him. PHAM consented to speak to the Task Force members about details of his travel. Trooper Eric Pecjo of the State Police Troop F K9 Section and his Belgian Malinois, Zeva, responded to assist with the investigation. Observations made during the investigation led the Task Force to obtain warrant from East Boston court authorizing them to search two suitcases checked onto the flight by PHAM.
The search warrant was executed and Task Force members located approximately 100 pounds of marijuana inside the suitcases, packaged in heat-sealed plastic wrap.
PHAM was charged with trafficking in marijuana. He was held overnight and is expected to arraigned today in the East Boston District Court.
---