Each summer, we SouthCoasters look forward to some very specific dishes. Not only do we seek out these dishes, but we look forward to trying them at a few spots for comparison. We love debating friends, family and online pals about who makes the best of our favorites.
How excited do we get when we find out a new restaurant has opened its doors? That we get to immediately search their menu for our favorites? Any foodies knows that you can virtually judge an entire menu on the quality and execution of something simple like a lobster roll, a bowl of chowder, or stuffed quahog. If a cook or chef can't produce a tasty bowl of chowder then it doesn't bode well for the rest of the menu.
Online groups are full of debates about who makes these standards the best, what makes them the best, and why we should travel and try them out. What is not up for debate among serious foodies is our love affair with these dishes, but what is up for debate is who makes the best.
We're not here to declare who makes the best, that's where your voice comes in. I have my opinion, but I'm one person – you are tens of thousands, so you tell us and say it loud enough that there is little debate!
1. Clam Cakes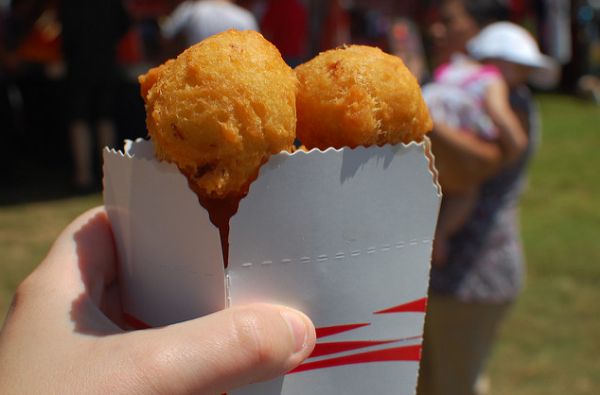 A proverbial favorite, the clam cake, is actually something that can cause confusion to people who are not from the area or haven't visited. I've met people on my travels around the country who haven't the faintest idea what they are. Sadly, because so many people make poor ones and skimp on actually putting clams in the clam cakes, an out-of-stater may still be confused after taking a bite.
According to some recipes in the area, one clam per clam cake is the limit. It's more of a fried dough ball and really doesn't deserve the right to call itself a clam cake.
However when done right – fried to a perfect, crispy, golden brown, filled with a fluffy hot dough center that has clams in every bite – the clam cake deserves respect! Often, served with malted vinegar and/or ketchup, I have come across some who prefer tartar sauce and even some rather fancy dips like a Japanese Kewpie Mayo, Sriracha, even a Shrimp Cocktail sauce. To each their own I guess. Give me malted vinegar, ketchup, and a pint cardboard box and I'm transported back to my childhood. Who makes the best clam cakes? What are they served with?