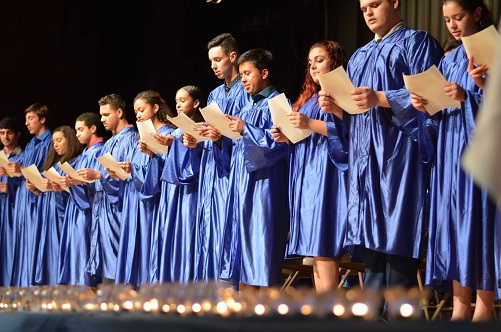 The National Honor Society inducted 75 New Bedford High School students in a ceremony at the school on Wednesday, May 20, 2015.
According to the organization, the National Honor Society (NHS) is the nation's premier organization established to recognize outstanding high school students. More than just an honor roll, NHS serves to honor those students who have demonstrated excellence in the areas of scholarship, leadership, service, and character.
Students inducted this year were:
Kasey Almeida, Paige Aviza, Tyler Bentley, Christian Borges, Tyler Brierley, Talia Brooks, Davelle Carreiro, Victor Carrion Jr., Kaylia Clark, Dana Conceicao, Kyle Cordeiro, Peter Cornell, Talice Correia, Ryan Costa, Sara Costa, Liliana De Pina Correia, Laura DeBurgo, Amy DeSousa, Kurtis DeSousa, Angela Dias, Ian Dumas, Kenzi Farland, Alexis Ferreira, Brianna Ferreira, Ruby Ferro, Drew Fraga, Luke Gioiosa, Katherine Gomes, Timothy Gouveia, Alanna Gracia, Ryan Holland, Rylie Indio, Benjamin LaCasse, Courtney Lima, Destyni Lopes, Luis Lopez, Allie Lucio, Olivia Marques, Keegan Marshall-House, Jacinda McCartney, Alexis Medeiros, Lindsay Medeiros, Kalyn Mello, Benjamin Monteiro, An Nguyen, John Owens, Emma Pacheco, Himali Patel, Andrew Patricio, Ashtyn Phaneuf, Tayla Pimental, Haylee Pimental, Tashianna Pires, Thea Racine, Andrew Rapoza, Tyler Rebeiro, Taryn Rebelo, Paul Rego, Paige Richmond, Sonia Rocha, Katelyn Santos, Geney Semedo Silva, Zachary Silva, Michael Silveira, Amanda Sky, Alexandra Soqui, Miranda Souza, Matthew St. John, Tampson Tavares, Victoria Vafaee, Cierra Vicente, David Watts, Emma West, Hannah White, May Zhen.
"We could not be more proud of these students, who embody the four pillars of the National Honor Society: scholarship, character, leadership, and service," said Superintendent Pia Durkin. "Each of these students exemplifies this qualities and in doing so, makes the city and the school shine."
"On behalf of everyone at New Bedford High School, congratulations to our newest crop of National Honor Society inductees," said Headmaster Bernadette Coelho. "These seventy-five students are seventy-five points of pride for our high school as we continue New Bedford High's tradition of excellence."