The members of the Freetown Police Association (FPA) are issuing "citations" to youth in the Town of Freetown as part of a community relations campaign. This campaign began on Tuesday, July 31, 2018 and will conclude on Labor Day.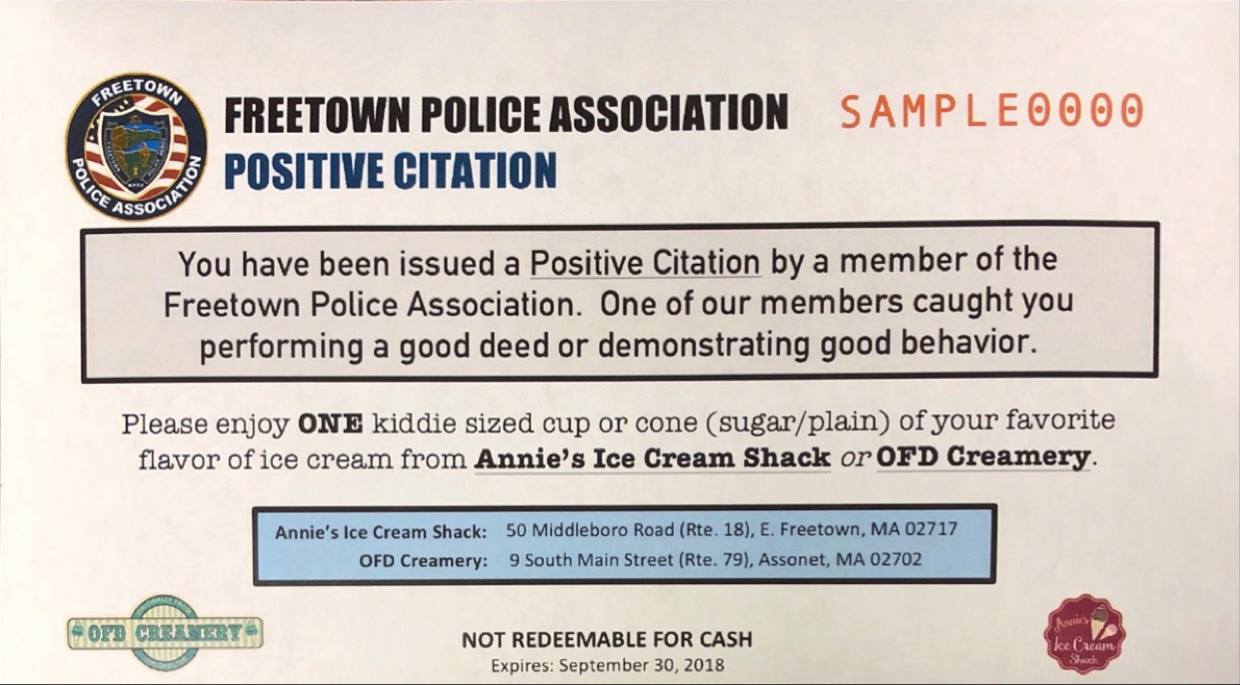 When members of the FPA are on patrol and observe good deeds or good behavior, they have been issuing one of these positive citations. Some examples of good deeds or behaviors include but are not limited to lending a helping hand, wearing a seatbelt, or wearing a helmet while riding a bicycle. Follow their Facebook page for photos of the cited kids.
This summer, the members of the FPA have teamed up with Annies Ice Cream Shack located at 50 Middleboro Road (Rte. 18) in East Freetown, MA and OFD Creamery located at 9 South Main Street (Rte. 79) in Assonet, MA. These local business owners have worked with the FPA in order to provide a reward as a result of these good deeds or behaviors.
Each "citation" is good for one kiddie cup or cone (sugar/plain) of the recipient's favorite flavor of ice cream from Annie's or OFD. The citations are not redeemable for cash.
As you can read in the Freetown Police Association's mission statement, it is the FPA's goal to develop, foster, and maintain sound and enlightened public relations within our community, social agencies, law enforcement organizations, and community organizations. It is their intention that this program will continue to build our relationship with the youth in the Town of Freetown so that one positive interaction may lead to another in the years to come.