New Bedford Guide Article Sponsorship Opportunities
Want to support and decide what NewBedfordGuide.com publishes? Here's your chance! Over the past three years, NewBedfordGuide.com has published 100s of original articles. These articles bring thousands of people to NewBedfordGuide.com daily, but digging up historic facts and ensuring accuracy can be time consuming. We are looking for supporters and sponsors of future articles. The cost is $200 per article. This allows you to sponsor a future article that is in the works, or even help pick the topic. If you manage a business this is a great way to promote it as businesses sponsors get a banner (provided by sponsor) at the end of the article. Non-business sponsors will be mentioned at the end of the article. For example, "This articles was made possible by … "
Interested? Contact info@newbedfordguide.com. Below is a sample of current ongoing series that you can sponsor. You can also sponsor past articles as they still get TON of traffic because they are found in Google and other search engines.
New Bedford's Forgotten History …
New Bedford streets; A Piece of Americana
Who Remembers …
Historical Personages of New Bedford
Off the Beaten Path
New Bedford Architecture
Whaling Terms For Landlubbers
Of Owner-Agents, Masters, and Salty Dogs
Those/That Old …
General History
Local Travel
Things to Do This Weekend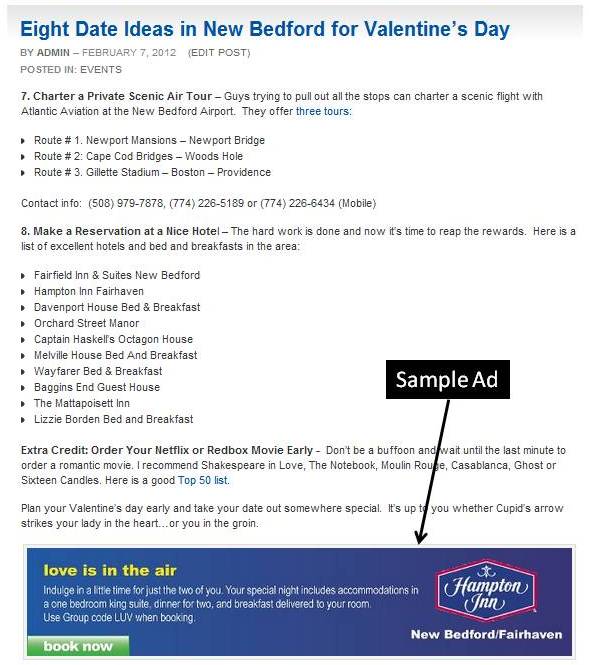 What do Sponsors Get?
Sponsors get a large leader board-style banner at the end of the article they sponsor. Example can be seen above. The article is titled, "Eight Date Ideas in New Bedford for Valentine's Day." The sponsor is The Hampton Inn with their Valentine's Day specials. When clicked, the banner leads to Hampton Inn's website specials where customers can get more information and order the service.
There are two ways for businesses to sponsor NewBedfordGuide.com articles. First, a business can sponsor existing articles on our website, which still generate traffic. Second, business can work with us on current article ideas and sponsor upcoming articles that are relevant to them. For example, we do weekly and monthly series that businesses could sponsor, or we could come up with a relevant article.
Benefits
Want to sponsor a current or future article? Contact us at info@newbedfordguide.com. Article sponsorship costs $200 per article. Banners must be provided or developed by us at an addition cost.