The South Coast Hot Jobs List – 12 November 2015
The Greater New Bedford unemployment rate is much higher than the rest of Massachusetts, but believe it or not there really are a lot of available for qualified applicants. Sometimes the barrier to a new job can be the lack of information on available job openings.
To solve this, each week New Bedford Guide will pull jobs from our jobs database to inform job seekers about the hottest jobs in the area.
We will define "Hot Jobs" as those jobs that need to be filled by the employer immediately. For those looking to search some large job databases, checkout my Best Job Search Resources for New Bedford Residents article.
---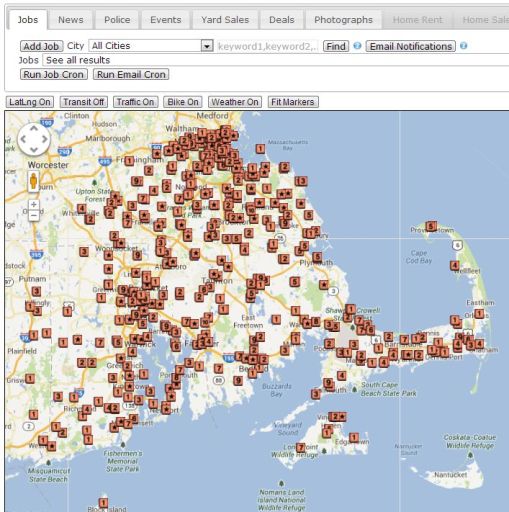 Here are the Hot Jobs in the New Bedford area from the NewBedfordGuide.com jobs database, as of November 12, 2015:
01. Bartenders, Host/Hostess, Servers & Dishwashers – Ninety Nine Restaurant & Pub Team Members (Fairhaven)
We also provide team members the tools, education and opportunities for personal success. That means if you want even more than a fun job at a great place, Ninety Nine Restaurants offers excellent opportunities to advance.
We also offer: Medical insurance plans, Paid vacation, 401(k) retirement plan, Meal discounts & more! Full job descriptions here.
02. HVAC Service & Installation Technician
Brodeur & Sons, Inc., is currently seeking EXPERIENCED HVAC SERVICE & INSTALLATION TECHNICIAN for an immediate opening. Oil burner license and CDL/Hazmat license a plus, but not necessary. If you are a hard worker with dedication to superior customer service, please call our office for an interview. We can be reached at 508-995-5151 or at phbrodeur@aol.com. Or stop by our office at 525 Church Street, New Bedford, MA 02745, office hours are Monday through Friday 8am to 4:30pm. Full details and application process here.
03. Kitchen Manager – Freestones City Grill (New Bedford)
Busy downtown full service restaurant seeks a talented, committed person to develop and lead our staff in a growing company. Qualifications: strong leader, Excellant communication skills, full financial knowledge of how a kitchen operates. Strong organization and team work. Be a part of our solution. Salary commensurate with experience. All information held in strict confidence. Full details and application process here.
04. Cook – St. Luke's Hospital (New Bedford)
Southcoast Business Center – Under the general supervision and direction of the Manager, Food Services or Designee, follow production sheets. Support the patient tray line. Communicate with Team Leader and servers during meal service. Replenish the tray line as needed especially during meal service. Have all grill sheet items prepared for designated times allowing for trucks to be delivered at appropriate times. Follow standardized recipes and diagrams accurately and consistently. Demonstrate a good understanding of Blast Chilling Operations. Maintain assigned equipment and work areas in a clean, orderly, safe and workable condition. Have food prepared for cafeteria at appropriate times. Full details and application process here.
05. Pizza Delivery Driver – Papa John's Pizza
$18 an hour. Come Join the Better Ingredients, Better Pizza Team as a Delivery Driver for our restaurant…Where you can earn up to $18 hr Besides your enthusiasm and a great work ethic, here is what you need for this job: Full details and application process here.
06. Store Manager – Family Dollar (New Bedford)
As a Family Dollar Store Manager in Training you will be responsible for providing exceptional customer service while assisting the Training Manager in the daily operation of a retail store. Under the direction, training and observation of the Training Manager, the Store Manager in Training (SMIT) maintains inventories, store appearance and completes daily paperwork. The Store Manager in Training must be willing and able to accept a Store Manager position within the Market upon completion of the training. Full details and application process here.
07. Technician – Aerotek Scientific (New Bedford)
Candidates will repair crane machines that are used to pull stock in warehouse. Candidates will be responsible for following all safety procedures including Lockout tagout to repair broken cables, restarts on industrial automation equipment which include proximity and distance sensors, check fuses, and working with PLC driven machines. Full details and application process here.
08. Sales Associate – General Nutrition Centers (North Dartmouth)
The Part Time Retail Sales Associate position at GNC is the most important job in our company. As a Retail Sales Associate, you are doing more than selling products…you are the face of GNC to our customers. Your most important job is to educate and to provide outstanding customer service. Full details and application process here.
09. Cashier – Sears (N. Dartmouth)
Responsible for providing excellent customer service, efficiently and accurately completing sales and service transactions at the cash wraps, as well as handle customer issues that may arise on the sales floor. Full details and application process here.
10. Sales Associate – Spencer's Gifts (Dartmouth)
Working at Spencer's will be fun, challenging, fast-paced and rewarding. We are a motivated, energized and dynamic culture that is dedicated to supporting our team with the productive tools and efficient resources necessary to achieve our challenging objectives. Success will be shared by our team of results-driven and principled associates. Full details and application process here.
---
Be sure to also check out our Job Portal to find jobs by location on a map: newbedfordguide.com/map-page#pm_jobs_tab. Want to get e-mail notifications for new jobs? Checkout our e-mail subscription service.
---