The South Coast Hot Jobs List – 08 October 2015
The Greater New Bedford unemployment rate is much higher than the rest of Massachusetts, but believe it or not there really are a lot of available for qualified applicants. Sometimes the barrier to a new job can be the lack of information on available job openings.
To solve this, each week New Bedford Guide will pull jobs from our jobs database to inform job seekers about the hottest jobs in the area.
We will define "Hot Jobs" as those jobs that need to be filled by the employer immediately. For those looking to search some large job databases, checkout my Best Job Search Resources for New Bedford Residents article.
---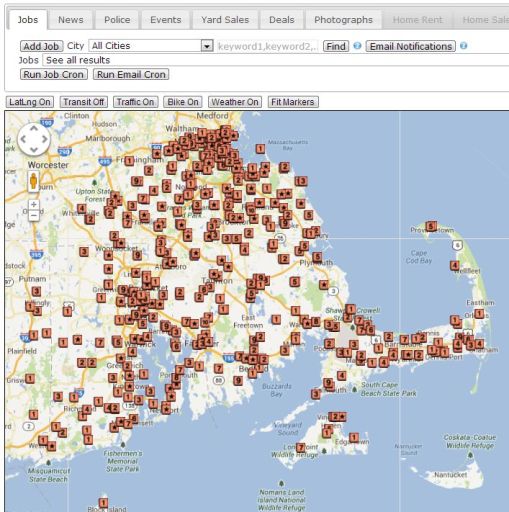 Here are the Hot Jobs in the New Bedford area from the NewBedfordGuide.com jobs database, as of October 08, 2015:
01. Domino's Pizza – drivers, pizza makers and team members
(109 Rockdale Ave and 972 Kempton St. New Bedford) – Join Our Award-Winning Team! Great compensation, flexible hours, positive team atmosphere! Full job descriptions here.
02. HVAC Service & Installation Technician
Brodeur & Sons, Inc., is currently seeking EXPERIENCED HVAC SERVICE & INSTALLATION TECHNICIAN for an immediate opening. Oil burner license and CDL/Hazmat license a plus, but not necessary. If you are a hard worker with dedication to superior customer service, please call our office for an interview. We can be reached at 508-995-5151 or at phbrodeur@aol.com. Or stop by our office at 525 Church Street, New Bedford, MA 02745, office hours are Monday through Friday 8am to 4:30pm. Full details and application process here.
03. Supercuts Stylist – Supercuts (Fairhaven)
Stylists at Regis provide guests with excellent service providing the full range of hair care services offered by their salon, such as cutting, styling, coloring, washing and perming hair and providing wax treatments. Regis endeavors to provide every guest with a great experience every time they visit by providing quality consultations, exceptional service and the knowledge to duplicate the desired look at home. Full details and application process here.
04. Assembler – Lockheed Martin (Mario)
Ability to read/comprehend MEI's, PWI's and manufacturing prints supplied and assemble various products meeting IPC 610 standards and customer requirements. Strong soldering ability and working knowledge of IPC 610 workmanship standards and component identification. Full details and application process here.
05. Garage Foreman – First Transit (New Bedford)
Oversees maintenance, repair, and overhaul of buses and related equipment. Major Responsibilities: Schedules fleet maintenance, assists in troubleshooting problems with equipment. Communicates availability of vehicles for service with dispatch. Supervisor's maintenance operations. Plans and distributes the work. Delegates responsibilities as appropriate and monitors performance. While involved in reviewing personnel actions (e.g. hiring, promotions and discipline), all such actions are further reviewed and approved by higher management. Full details and application process here.
06. Assistant Manager – Dollar Tree (New Bedford)
Assistant Store Managers at Dollar Tree are responsible for the following: Assisting in the realization of your store's maximum profit contribution. Protect all company assets. Maintain a high level of good customer service. Opening and closing the store. Creative problem solving in the areas of: Associate Development, Maximizing Sales Potential, Controlling Expense and Shrink, Merchandise Display, Store Signage Placement. Full details and application process here.
07. Bank Teller – Santander Bank (New Bedford)
As a member of Santander's retail banking division you'll help serve Santander's retail and small business customers as part of one of the top banks in the United States based on deposits. With principal presence in the northeast U.S., Santander's retail division offers consumer and lending products to help our customers reach their financial goals. Santander currently serves nearly 2 million retail customers and 5.2% of the 2.7 million small businesses in the US footprint have a transactional account with Santander Bank. Full details and application process here.
08. Clerk\Cashier – CVS Health (New Bedford)
To ensure customer satisfaction by handling each customer with the eye's, hi's and help. To ensure each customer has a positive shopping experience and to remember that the customer is the top priority. Required Qualifications: Must be at least 16 years of age. Ability to complete the following tasks: Operate a cash register including cash transactions, checks, charges. Follow company policies and procedures regarding cash register performance. Request additional help when needed to increase customer satisfaction. Greet each customer using the eye's, hi's and help at all times and assist customers with their questions, problems and complaints. Price merchandise utilizing price guns. Full details and application process here.
09. Delivery Driver – Advance Auto Parts (New Bedford)
Essential Job Skills needed to be a Mobile Pro: Must possess good verbal communications skills, including good customer. Service and salesmanship abilities. Ability to read and interpret documents such as safety rules, operating and maintenance instructions, parts catalogs, and procedure manuals. Ability to add, subtract, multiply, and divide in all units of measure, using whole numbers, common fractions, and decimals. Full details and application process here.
10. Receptionist – Greater New Bedford Community Health Center
Qualifications: High School diploma or GED. Experience in computer data entry required. Experience in dealing with general public. Excellent communication skills, both oral and written; excellent organizational and good time management skills. Demonstrated ability to accurately attend to detail. Ability to work independently with a minimum of supervision. Ability to speak Spanish or Portuguese preferred. Summary of primary duties and responsibilities: Ability to understand, explain, and apply free care regulations, rules, policies and procedures. Orients all self-pay patients and the underinsured patients regarding programs within the Health Center. Registers patients upon arrival, ensuring that all demographic information is updated and accurate. Verifies eligibility of insurance for all patients. Confirms patient appointments. Full details and application process here.
---
Be sure to also check out our Job Portal to find jobs by location on a map: newbedfordguide.com/map-page#pm_jobs_tab. Want to get e-mail notifications for new jobs? Checkout our e-mail subscription service.
---