The South Coast Hot Jobs List – 26 June 2013
The Greater New Bedford unemployment rate is much higher than the rest of Massachusetts, but believe it or not there really are a lot of jobs available for qualified applicants. Sometimes the barrier to a new job can be the lack of information on available job openings. To solve this, each week New Bedford Guide will be working with the New Directions Southcoast (also known as the Greater New Bedford Career Center) and pulling jobs from our jobs database to inform job seekers about the hottest jobs in the area. We will define "Hot Jobs" as those jobs that need to be filled by the employer immediately. For those looking to search some large job databases, checkout my Best Job Search Resources for New Bedford Residents article. Unless noted otherwise, those interested in these positions or want more information should go to the Greater New Bedford Career Center at 618 Acushnet Avenue. Be sure to also check out our Job Portal to find jobs by location on a map: http://www.newbedfordguide.com/map-page#pm_jobs_tab.
If there is not a link to applying for one of the jobs listed, contact Sharon Martin, Business Services Representative at 508-990-4115 or feel free to stop by the Greater New Bedford Career Center. These positions are posted on mass.gov/jobquest.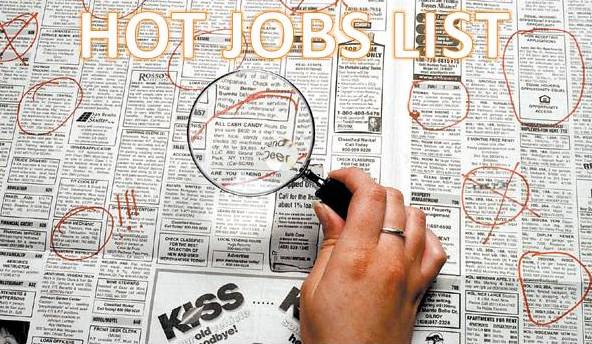 Here are the Hot Jobs from the Greater New Bedford Career Center as of June, 26th, 2013:
1. Administrative Assistant #2611083 – Temporary three month position that could lead to permanent. Position to begin in July. Must have exceptional customer service skills and Microsoft Office. You will be working in the office for a manufacturing company.
2. Janitorial #2602633 – All aspects of facility cleaning. Tile, carpets and ceramic floors. Able to lift 30 lbs, bend and climb ladders. The ability to remain standing for long periods of time. Must be able to understand written and verbal communication and instructions. Experience using an auto-scrubber and buffer/finisher very helpful. This company seeks experienced floor and facilities cleaning personnel, but WILL train for the right candidate. Starting and ending times may change in the future or as work requires.
Part-time Monday – Friday with occasional Saturdays. Must be extremely reliable with own car and valid driver's license. Candidates must be prepared to pass E-Verify and a criminal background check. This position is in the New Bedford, Fall River & North Easton area.
3. Q.A. Technician #2602689 -The position is responsible for inspecting the process and production lines to monitor and verify the manufacturing and labeling of a quality product that will meet legal and company requirements. Will assist Q.A manager with input of computer data and audit programs. The ideal candidate must have a Bachelor's degree and one (1) year in a manufacturing environment with quality assurance and auditing experience. Good math and computer skills desired. Will train the right candidates.
4. Forklift #2622291 – Need to fill position ASAP. Must be mechanically inclined, will train to operate Forklift on first shift, after training will go on second shift. Must be dependable and must have own transportation.
5. Facilities Specialist #2622281 – Must have a minimum of two (2) years' experience in janitorial and maintenance. Knowledge of building systems, carpentry skills, and ability to perform minor repairs. Carpentry skills helpful. Driver's license required. Must respond to emergency calls.
6. Custodian #2622287 – Minimum of one year experience in Janitorial and maintenance work. Carpentry skills helpful. Driver's License required.
7. Residential Service Coordinator #2595660– Reporting to the Director of Homecare, the Resident Service coordinator is responsible for casework with elderly and family residents and residents with disabilities that may be in need of support, refers them for assessment, links them with service providers in the community and monitors the provision of the services. The position serves as a link with the site management to insure that the individual/family is aided in getting the services necessary to continue residency in the development. B.A. from an accredited college or university, preferable in social services, or commensurate work experience in human services, or training in the field of gerontology.
Experience working with the elderly. Knowledge of local community resources. Driver's license and car.
8. Residential Instructor #2622333 – Residential Instructor – part time Sun 9 pm – 3 pm, Fri 3 pm – 8 pm, Sat 4 pm – 8 pm. Assisting and teaching developmentally delayed individual's independent life skills including house maintenance, cooking, cleaning, personal hygiene, vehicle maintenance, community involvement, data collection and documentation and implementation of ISP goals. Approved driving record, 6 months experience, MAP approved, all training's complete.
9. Marine Mechanic #2627588 – Bayline Boatyard, looking for motivated and experienced Gas, Diesel, and Outboard Marine Mechanics with the ability to diagnose and repair marine engines and generators. Experience in all marine systems preferred. Must have own tools. Minimum 5 years' experience required. Excellent pay and benefit package. Year round employment, Inquiry will only be taken via e-mail or fax (508-992-4216). NO PHONE CALLS.
10. Welcome Center Associate #2627604 – The New Bedford YMCA is looking for qualified individuals to join our welcome center. Candidates must be friendly and enjoy working with people. Excellent customer service and multi-tasking are a must. Our hours of operation are 5:30AM to 9:30PM Monday-Friday and weekends. Must be flexible.
Here are some jobs in the New Bedford area from the NewBedfordGuide.com jobs database:
1. Assistant Property Manager at The Community Builders (New Bedford) – The Community Builders, Inc. is the largest nonprofit urban housing developer in the United States. Full details and application process here.
2. Branch Customer Service Rep at Webster Bank (New Bedford)– Full details and application process here.
3. Gift Store Manager at Buttonwood Park Zoo (New Bedford) –  Responsibilities include inventory and staff management. Full details and application process here.
4. Assistant Principal at Fairhaven Public Schools (Fairhaven) – Full details and application process here.
5. Breakfast/Lunch/Dinner Cooke at Jake's Diner (Fairhaven) – Full details and application process here.
6. Public Affairs Officer at UMass Dartmouth (Dartmouth) – Full details and application process here.
7. Dick's Sporting Goods Fitness Trainer (Dartmouth) – Full details and application process here.