The South Coast Hot Jobs List – 03 November 2015
The Greater New Bedford unemployment rate is much higher than the rest of Massachusetts, but believe it or not there really are a lot of available for qualified applicants. Sometimes the barrier to a new job can be the lack of information on available job openings.
To solve this, each week New Bedford Guide will pull jobs from our jobs database to inform job seekers about the hottest jobs in the area.
We will define "Hot Jobs" as those jobs that need to be filled by the employer immediately. For those looking to search some large job databases, checkout my Best Job Search Resources for New Bedford Residents article.
---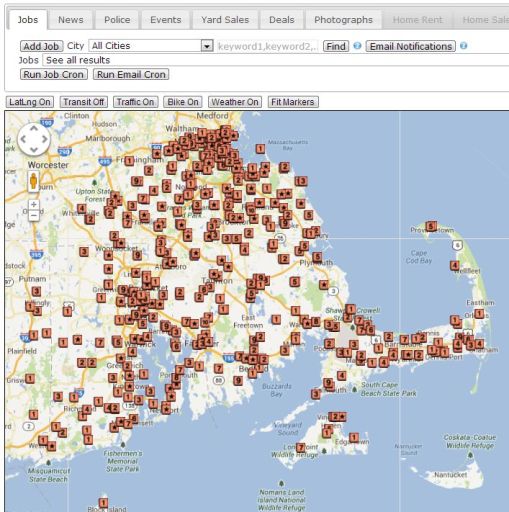 Here are the Hot Jobs in the New Bedford area from the NewBedfordGuide.com jobs database, as of December 03, 2015:
01. Freight Handler/Receiver – FHI (Freetown)
Freight Handlers needed on 1st & 2nd shifts! These are full time positions with benefits starting after 60 days. Handlers unload trailers delivering product to general merchandise distribution warehouses and use powered industrial equipment (Powered pallet jacks, Fork lifts, Dock stockers) as the primary means of removing product from the trailer; however, hand stacking cases of product is an integral and repetitive part of the unloading process. Work is performed in a warehouse setting and is physically demanding. Full job descriptions here.
02. HVAC Service & Installation Technician
Brodeur & Sons, Inc., is currently seeking EXPERIENCED HVAC SERVICE & INSTALLATION TECHNICIAN for an immediate opening. Oil burner license and CDL/Hazmat license a plus, but not necessary. If you are a hard worker with dedication to superior customer service, please call our office for an interview. We can be reached at 508-995-5151 or at phbrodeur@aol.com. Or stop by our office at 525 Church Street, New Bedford, MA 02745, office hours are Monday through Friday 8am to 4:30pm. Full details and application process here.
03. Cook -Life Care Centers of America (New Bedford,)
The COOK partners with the dietary staff to prepare delicious, nourishing meals for our residents. Members of the culinary team gain knowledge every day about residents' needs and preferences by providing empathic services and treating each resident as an individual. Culinary and/or food services experience is preferred. Benefits for Full-Time Associates. Medical, dental, vision, life and short-term disability coverage, 401(k), paid vacation, sick days and holidays. Full details and application process here.
04. Crew Member – Wendy's (Fairhaven)
The responsibilities and qualifications described above are for positions at Wendy's International, Inc. company-owned and operated restaurants. A large percentage of Wendy's restaurants are independently owned and operated franchised Wendy's restaurants. Job descriptions, compensation, benefits and other employment terms and conditions applicable to positions at independent franchised Wendy's Restaurants will vary and are determined solely by the Franchisee. Full details and application process here.
05. Laboratory Assistant – St. Luke's Hospital (New Bedford)
Under the general supervision and direction of the Manager, Laboratory Site or designee, obtain correct specimens and volumes according to current procedures. Insure that all specimens are appropriately and accurately labeled. Process and deliver specimens to correct laboratory departments. Enter all specimen and patient information in LIS or department logs. Generate accurate reports in a timely fashion and distribute appropriately. Perform phlebotomy on inpatient, outreach clients, home draws, nursing homes, and outreach locations. Maintain equipment and instrumentation. Full details and application process here.
06. Warehouse Manager – PXL, Inc. (New Bedford)
This job is located in southeastern Massachusetts, near beautiful beaches, Cape Cod and the greater Boston area. Our client is an industry leader in the manufacture of durable goods for commercial and residential use. They are developing some of the most technologically advanced products in the marketplace, including highly efficient solar applications. They are seeking a Warehouse Manager to oversee all shipping, receiving and transportation activities. The Warehouse Manager position offers a highly competitive salary package, Medical, Dental, Retirement, Life Insurance, and Disability protection. Full details and application process here.
07. Janitorial/Warehouse – Julius Koch USA, Inc. (New Bedford)
Monday – Friday, 7 a.m. to 3:30 p.m. Start rate commensurate with experience. Perform maintenance of office, restrooms, cafeteria and some areas of manufacturing area and grounds: sweeping, dusting, cleaning surfaces, replenishing supplies, washing, waxing and buffing floors. May unload materials from trucks and transport to locations. Pick up reusable scrap and regular trash from all areas of facility and transport to locations. May shovel snow. Set up and break down tables, chairs, etc. and other related activities. Full details and application process here.
08. Seasonal Tax Preparer – CliftonLarsonAllen (New Bedford)
CliftonLarsonAllen, one of the nation's largest public accounting and professional services firms with more than 50 years of experience of providing excellent service to our clients and great career opportunities for our people, wants you to join our team! We are seeking a Seasonal Tax Preparer to join our New Bedford or Quincy, MA office. This is a part-time position with variable hours based on business needs, but will require a commitment from mid-January to mid-April. Full details and application process here.
09. Transportation Driver – Centerline Drivers, LLC
$19 – $20 an hour. Do you have a Class A CDL? We are now hiring transportation truck drivers for Centerline. You will be working with different freights and routes. There are regional and local opportunities available. Centerline will work with you to find the best assignments for your preference. We are looking for transportation truck drivers who can work in a professional and safe manner at all times. Full details and application process here.
10. Computer Technician – Acushnet Public Schools (Acushnet)
Support the Director of Technology and Information Systems in the day to day operations of the technology infrastructure.Set-up, install, and maintain district computer systems.Install workstation hardware and software upgrades.Conduct preventative maintenance tasks as directed.Perform repair of computer hardware, printers, and peripherals, including acquisition of parts and maintaining service related records.Maintain the network hardware, software, networkable computer applications and files. Full details and application process here.
---
Be sure to also check out our Job Portal to find jobs by location on a map: newbedfordguide.com/map-page#pm_jobs_tab. Want to get e-mail notifications for new jobs? Checkout our e-mail subscription service.
---