The South Coast Hot Jobs List – 5 March, 2013
The Greater New Bedford unemployment rate is much higher than the rest of Massachusetts, but believe it or not there really are a lot of jobs available for qualified applicants. Sometimes the barrier to a new job can be the lack of information on available job openings.  To solve this, each week New Bedford Guide will be working with the New Directions Southcoast (also known as the Greater New Bedford Career Center) to inform job seekers about the hottest jobs in the area. We will define "Hot Jobs" as those jobs that need to be filled by the employer immediately. For those looking to search some large job databases, checkout my Best Job Search Resources for New Bedford Residents article. Unless noted otherwise, those interested in these positions or want more information should go to the Greater New Bedford Career Center at 618 Acushnet Avenue.
Interested in any of the positions listed below, please contact Sharon Martin, Business Services Representative at 508-990-4115 or feel free to stop by the Greater New Bedford Career Center.  These positions are posted on mass.gov/jobquest.
Here are the Hot Jobs as of March, 5th, 2013:
1. Administrative Assistant/Customer Service #1929190 – Administrative Assistant/Customer Service position. Individual must be comfortable with answering phones, data entry, working on the computer. Fast-paced environment, so must be an excellent multi-tasker and energetic person. Must be professional and punctual, customer oriented and detailed. Resume must reflect customer service experience.
2. Landscape Laborer #1929207 – Lawn Care / Landscape Company in Westport is looking for full time employees. Use of commercial Walk-Behind & Zero Turn mowers. Planting, trimming, & pruning experience helpful. Drivers Lic. & 3 Work References required. Compensation based on Experience, Knowledge & Motivation. Benefits & Advancement opportunities. Must be able to speak, read and write English. Interested applicants must complete an application at the Greater New Bedford Career Center, 618 Acushnet Avenue, New Bedford.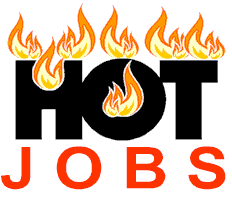 3. Bark Blower CDL Driver #1941625 – Large landscaping company is currently seeking a class B driver/operator for its Bark Blower to join their rapidly growing maintenance team. The ideal candidate should have the following skills and experience: 3-5 year of experience as a driving/operator Bark Blower; Excellent communication and leadership skills; Be effective as a team leader and have good time management skills. Priority on quality, people skills and goal oriented. Valid CDL license is required. All jobs are located throughout the South Shore. Interested and qualified applicants are to complete an application and prescreening at the Greater New Bedford Career Center.
4. Office Clerk #1937161 – All around office clerk needed for New Bedford, MA office. EXPERIENCE REQUIRED. This is a full time 40 hour per week position which requires perfect attendance, attention to detail, and ability to multitask. You must be a fast learner that can work in a fast paced high stress environment. Serious applicants MUST have experience with all Microsoft Office programs and QuickBooks. The position will cover a large range of tasks from reception, purchasing and inventory, and payroll to name a few and experience is MANDATORY! Please submit resume along with references and salary requirements to pchampagne@detma.org.
5. Maintenance/Cleaning Person – Taco Bell restaurant is looking to hire a maintenance/cleaning person for a new restaurant scheduled to open in March 2013 in New Bedford. Must be dependable, flexible and some experience needed. Interested applicants are to complete an application at the Greater New Bedford Career Center.
6. Customer Service Champions & Food Champions – Working at Taco Bell means loving the food, and joining a high-energy team that serves 3 million customers every day. Whether it's at headquarters or in the restaurant, everyone is passionate about delivering the best, Mexican-inspired food. Work at Taco Bell, and share the love. They following positions are available:
Customer Service Champions/Cashier and order taking. Must have great customer service skills. You will be the greeter and work face to face with customers and Food Service Champions/kitchen staff. All interested applicants must be dependable and flexible. Positions are located in Dartmouth, Fairhaven and Fall River. To apply complete an application at the Greater New Bedford Career Center.