The South Coast Hot Jobs List – 12 February, 2013
The Greater New Bedford unemployment rate is much higher than the rest of Massachusetts, but believe it or not there really are a lot of jobs available for qualified applicants. Sometimes the barrier to a new job can be the lack of information on available job openings.  To solve this, each week New Bedford Guide will be working with the New Directions Southcoast (also known as the Greater New Bedford Career Center) to inform job seekers about the hottest jobs in the area. We will define "Hot Jobs" as those jobs that need to be filled by the employer immediately. For those looking to search some large job databases, checkout my Best Job Search Resources for New Bedford Residents article. Unless noted otherwise, those interested in these positions or want more information should go to the Greater New Bedford Career Center at 618 Acushnet Avenue. Here are the Hot Jobs as of February, 12th, 2013.
Interested in any of the positions listed below, please contact Sharon Martin, Business Services Representative at 508-990-4115 or feel free to stop by the Greater New Bedford Career Center.  These positions are posted on mass.gov/jobquest.
1. Demo-Event Specialist #1808956 – CROSSMARK has an opportunity for you! We are looking for Brand Ambassadors / Product Promoters to work in the Home Improvement sector promoting a new service offered to consumers. Primary Work Location is Dartmouth, MA, Position Status Part Time with Average Hours of 20 Per Week (Note: These hours are estimated and are subject to frequent increases/decreases due to business needs.)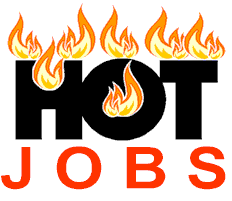 2. Refrigeration Technician #1808880 – Refrigeration Technicians needed immediately for an expanding business. Refrigeration license a plus but not required. Previous refrigeration experience required. Employer is willing to train a "non- licensed" refrigeration experienced applicant. HVAC and marine experience a plus. Position is full time with overtime available, competitive wages. Interested applicants should complete apply at the Greater New Bedford Career Center.
3. Administrative Assistant #1842092 – Medical Terminology a must. Administrative Assistant, Word, Excel, High School.
4. Manufacturing/Warehouse #1842090 – General Warehouse, Machine Operation, Extrusion, Press Operator. High School or GED.
5. Switchboard #1842086 – Answering a multi-line switchboard. GED or High School. Well spoken, Multi Line Switchboard. This position is part-time 27 hours per week.
6. Purchaser/Buyer #1842082 – Manufacturing background with MRP/ERP a must. Associates/Bachelors or equivalent exp. Purchasing, MRP, ERP Contract.
7. Sanitation Worker #1813558 – Experienced sanitation worker for regular clean up. In charge of ordering supplies. Clean restrooms, break rooms, empty waste basket, vacuum floors, wet power, clean windows doors and general maintenance. Must read, write and speak English. Overtime on Saturdays.
8. Airport Maintenance Person #1842121 – Maintenance of Airport property and equipment to assure the efficient and effective safety and service for all users of the Airfield and Landside Facilities. This position is temporary part-time – no benefits.
Maintains and repairs runways, taxiways and other paved and non-paved areas; on and off airfield snow removal; paints airfield and landside markings; maintains and repairs runway and taxiway lights; maintains and repairs grounds, structures, and facilities. May conduct airfield and/or landside inspections, as necessary. May issue NOTAMS. Must communicate professionally on a radio; airfield and landside mowing, weed eating, tree cutting and grading. General custodial and maintenance work in buildings and around buildings, cutting grass, weed eating, snow removal, landscaping, trash removal, changing light fixtures, painting, general cleaning (vacuum, dust, wash windows, cleaning rest rooms). Assist in any emergency or incident at the airport. The City of New Bedford has a Residency Requirement, and EEO.