Services for LCpl Matthew R. Rodriguez, 19, Fairhaven, MA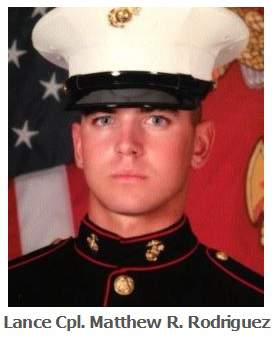 The family of US Marine Corps LCpl Matthew Rodriguez has requested our presence at the funeral of their Fallen Hero. LCpl Rodriguez died on December 11th while conducting combat operations in Helmand Province, Afghanistan. He was assigned to the 1st Combat Engineer Battalion, 1st Marine Division, I Marine Expeditionary Force, Camp Pendleton, California
Lance Corporal Rodriquez joined the Marines in 2012. He was awarded the Purple Heart among other medals. He followed in the steps of his father, also a Marine. Here are the details of the return of LCpl Matthew Rodriguez on his journey home and to his final resting place:
ARRIVAL & WAKE
DATE: Thursday, December 19 2013
At: Saunders-Dwyer Mattapoisett Funeral Home
50 County Rd., Route 6
Mattapoisett, MA 02739
STAGING LOCATION: We will stage across the street from the funeral home at
53-55 County Rd (Route 6)
Mattapoisett, MA
STAGING TIME: Please arrive No Later Than 1:00 PM
We will then form a flag line to honor LCpl Rodriguez upon his return, along with his family
WAKE: Please attend on your own and bring your own flags
DATE/TIME: Sunday, 22 December,1:00 PM – 7:00 PM
LOCATION: At the Funeral Home
Please park across the street
---
FUNERAL
DATE: Monday, 23 December 2013
At: First Congregational Church
34 Center St
Fairhaven, MA
STAGING LOCATION: 5 South St
Fairhaven, MA 02719
Parking is on South St between Main St. and Fort St
STAGING TIME: 8:45 AM – 9:10 AM
BRIEFING: 9:15 AM
We will then proceed to the church and form a flag line.
Interment to follow at Bourne National Cemetery
SECONDARY STAGING: For those who wish to participate in the interment ceremony but who are unable to be at the church.
Cape Cod Harley Davidson
750 MacArthur Blvd (Rte 28)
Pocasset, MA 02559
STAGING TIME: 11:05 AM – 11:30 AM
BRIEFING: 11:35 AM
KSU: 11:40 AM
Ride Captain: Ray L'Heureux Lheureux_Raymond@yahoo.com
Assisting Ride Captain: Dave Rumney Gufinof1@msn.com
NOTE: Please be mindful of weather and road conditions and dress and travel accordingly.
————Flags will be provided——— ——
Howard Shrut
MA State Captain
hshrut@rcn.com
For more information, media may contact the 1st Marine Division Public Affairs Office during duty hours at 760-725-8766 and after duty hours at 760-468-9895.
---