While the American mainstream media focuses on President Trump choosing Russian salad dressing and having two scoops of ice cream instead of one, the President scored some major meaningful victories in Syria and Iraq over the past few days.
First, Iraqi Prime Minister Haider al-Abadi formally declared victory over the Islamic State in Mosul. The Iraqi military with support of the U.S. and allies finally drove IS, or ISIS, out of Mosul, Iraq's second largest city that was taken over three years earlier.
Here's a look at the map, now consider President Trump took office on January 20th, 2017.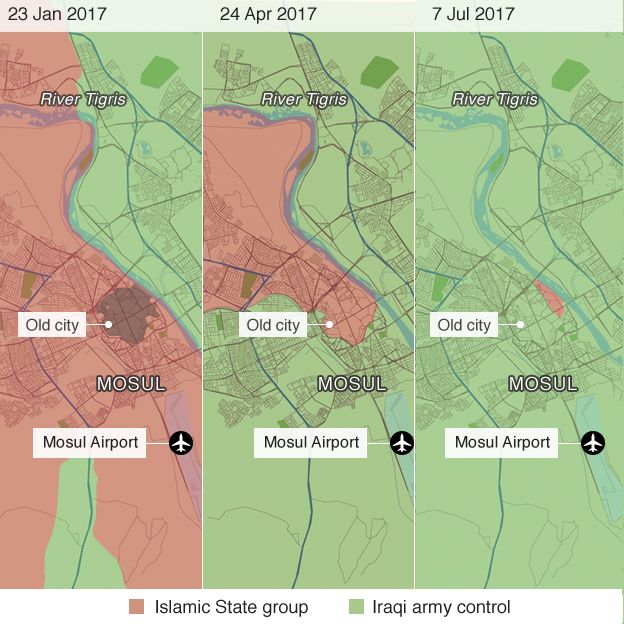 Second, at the G-20 Summit in Germany last week, President Trump negotiated a cease-fire in Syria with Russian President Vladimir Putin. You may not have heard about it because the media was likely showing you something the First Lady did wrong or some Twitter war between Trump and a CNN reporter. But yes, a cease-fire was agreed on between America and Russia in Syria and that's a good thing.
Does anyone think ISIS controlling Mosul was a good thing? If so, you may want to get your head examined. Does anyone think war in Syria is better than a cease-fire? If so, you should head to your local recruiter, sign up and do some fighting – put your money where your mouth is. The majority of the world is happy to see the cease-fire and most rational people hope it lasts.
Even if you despise President Trump, it's okay to admit he had a good couple of days. You don't have to admit it on social media and it's perfectly acceptable to hope your President succeeds, even for a few days.