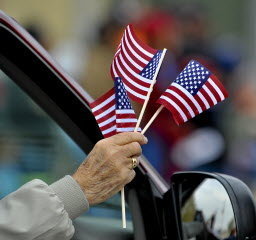 The City's Veterans' Advisory Board (VAB) and the City of New Bedford would like to take this time to invite you to the 2013 New Bedford Veteran's Day Parade! This year's parade is being put together by the City's Veterans' Advisory Board as well as the Veterans' Services Department and they would like to see everyone come out and support this year's Veteran's Day Parade by participating in it.
This year's parade will take place on Veteran's Day November 11, 2013. The parade will form at the intersection of Rockdale Avenue and Union Street beginning around 10:30AM and stepping off at 11:00AM. The parade will march East on Union Street to Pleasant Street. The parade will then turn left and head North on Pleasant Street past the reviewing stand which will be located on the left in front of the New Bedford Main Library. There will be a Veterans' Day service held at the reviewing stand at the conclusion of the parade and we encourage all participants to stay and take part in the service.
If you plan on marching in this year's parade we ask that you please RSVP so that we can put our marching order together as well as have a list to publish of all organizations participating. Please RSVP by October 25th, 2013 by calling the New Bedford Veterans' Services Department at 508-991-6184 or send an email to cgomes@newbedford-ma.gov
If you do not RSVP because you are unsure whether or not you can participate but then find out you can, we invite you to still show up to the parade. All who want to participate in the parade will be given the opportunity but a call to the Veterans' Services Department to let us know would be appreciated.
The Veterans' Advisory Board is seeking:
Veterans or family of Veterans willing to help out some of the older Veterans who because of age/numbers cannot have their organization's colors in the parade, the volunteers would carry their banner and flags. One group is the Jewish War Veterans; they have asked for help if possible.
The parade is it is themed to Welcome Home the Persian Gulf/OIF/OEF Veterans so it would be great to get a strong showing of them.
People who would be willing to put their antique/classic cars in the parade to possibly transport some of the older Veterans who can't march anymore.