New Bedford teachers agree to new labor contract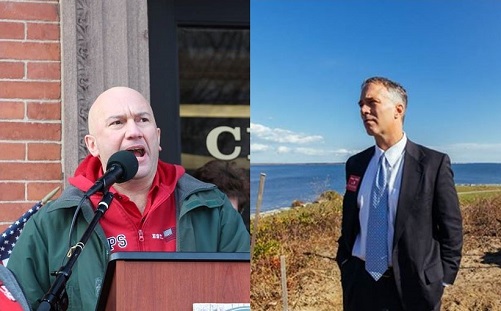 At a press conference today in New Bedford City Hall, Mayor Jon Mitchell joined with New Bedford Public Schools Superintendent Dr. Pia Durkin and leaders of the New Bedford Educators Association to announce the parties have reached a new labor contract for New Bedford teachers, subject to approval of the New Bedford School Committee.
Last evening, New Bedford teachers voted to ratify the new one-year labor contract (7/1/2014-7/31/2015) which includes important changes that will support the school department's efforts to provide teachers with additional professional development throughout the school year as well as to hire the most qualified teachers.
"This agreement represents another significant step forward for the New Bedford Public Schools. New Bedford teachers have really stepped up and they can be confident in the district's demonstrated commitment to supporting their work," Mayor Mitchell said.
He added, "The contract provides teachers with the support they need in the form of additional professional development. And, early decision-making will give the district a competitive advantage in selecting qualified applicants to fill open positions."
"This contract is a game changer for New Bedford," said Superintendent Durkin. "We will have a competitive edge not only when we hire new teachers, but also be able to stabilize school staff for those who continue working with New Bedford students."
Superintendent Durkin said, "I want to thank NBEA President Lou St. John and New Bedford's teachers, for working with us on an agreement that will benefit both the city's students and educators."
Highlights of the new contract, which covers the period July 1, 2014 through July 31, 2015, include:
Teachers Supported with Additional Professional Development: Teachers will receive twenty hours of professional development throughout the school year at bimonthly meetings.
District Gains Competitive Advantage in Selecting New Hires: Resignation and retirement notices will be several months earlier, allowing New Bedford to be competitive with other districts who receive early notices. New Bedford Public Schools will be in position to hire teachers earlier in the year, giving the City the edge when it comes to selecting qualified applicants.
District Can Better Plan Staff Assignments: Transfers and reassignments will, like retirements and resignations, now have earlier notices, so the school staff will know where employees are assigned earlier in the year, allowing for more planning.
Compensation Increases: Educators on Steps 1 – 11 in the 2013-14 school year and full-time teachers in the 2014-15 school year will receive a $500.00 increase. Educators on Step 12 in the 2013-14 school year and full-time teachers in the 2014-15 school year will receive a $1,500.00 increase. The cost of the contract in the current fiscal year is approximately $480,000 which will not require a budget increase.