New Bedford Students Start School Year with Technology in the Classroom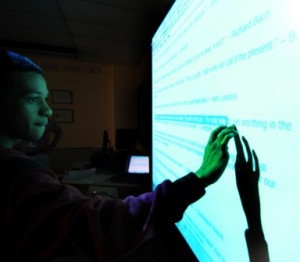 New Bedford High School teachers and students began the 2012-2013 school year with access to new educational technology tools in the classroom.  Twenty classrooms at New Bedford High School were outfitted with interactive white boards (Promethean boards) as well as laptop computers and interactive slate boards with the ability to communicate with the interactive boards. Teachers received training on the new technology and will use the tools to engage students in a more interactive classroom environment.
The New Bedford Public School District was able to purchase the technology after the City Council agreed to Mayor Mitchell's Fiscal Year 2013 Budget Proposal to invest $1 million in additional funds for the school department which was facing a budget crisis.
The City's unprecedented investment in the school district was used to enable the schools to purchase adequate textbooks and other education technology tools to help students succeed.  The school department's textbook accounts had previously suffered drastic cuts in order to plug deficits in other areas.
Mayor Jon Mitchell said, "We used a mixture of new revenue and spending cuts to close the school budget gap and I am pleased that as a direct result of the cooperation of the City Council and School Committee our students will have access to new textbooks and innovative, interactive technology in the classroom."
New Bedford City Council President Steven Martins said, "The City Council believes in providing the right tools and technology necessary to help our New Bedford students succeed.  Supporting the budget proposal, we knew it would better help our children learn and succeed. We strongly believe that in shaping the future, our children and our schools must come first."