Off duty New Bedford police officer stops Acushnet home robbery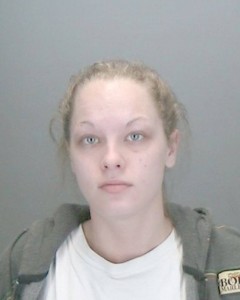 At approximately 12:23PM on Saturday, 1/3/2015, Acushnet Police received a call from off duty New Bedford Police Sergeant Jason Gomes reporting he had detained a female that had just broken into a home on Mattapoisett Road in Acushnet.
Sgt. Gomes received a telephone call from a close family friend that lives nearby reporting she was on the second floor of her home and that she could hear someone walking around on the first floor. Sgt. Gomes went to the home and found the side door slightly open. He entered and found an unfamiliar female at the top of the stairs to the second floor. Sgt. Gomes engaged her in conversation and quickly determined she did not belong in the house. He was escorting her from the home just as Acushnet Police Sgt. Keith Ashley and Officer Jeremy Fontes arrived on scene.
A subsequent investigation revealed Jessica Soucy DOB 9/25/91, with addresses in NH as well as Lawrence and Freetown, MA had broken into the house. She was also in possession of jewelry taken from the home. The 16 year old female resident that was home at the time of the incident was not harmed and never came in contact with the suspect.
Ms. Soucy is being charged with breaking and entering in the daytime, placing a person in fear and larceny over $250. She is scheduled to be arraigned in New Bedford District Court on Monday, 1/5/2015.
The Acushnet Police would like to thank Sgt. Gomes for his assistance. He is also the commander of the NBPD Port Security Unit.