Maine man arrested for New Bedford Cumberland Farms armed robbery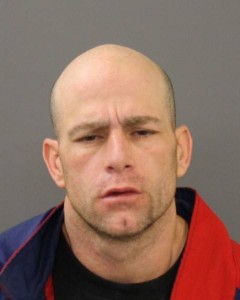 This morning at approximately 12:30am an armed robbery occurred at the Cumberland Farms at 810 Rockdale Ave. The victim was not harmed.
The suspect entered the store armed with a knife and demanded cash. After obtaining an undisclosed amount of money, he was last seen running easterly on Mill St. behind the business.
Off. Keith Almeida, who was in the area, observed a male jumping fences near Florence and Mill St. who matched the description.
Shortly thereafter, the suspect was taken into custody near the intersection of Tremont St. and Hillman St. The money was recovered and returned to the store.
The arresting officer is Walter Gaj Jr. Scheduled to be arraigned this morning in New Bedford district court;
Kevin Murray age 39 of Boot Foot Rd., Bridgewater, Maine is facing a charge of armed robbery.