New Bedford Cruise Ship Schedule
New Bedford has become a tourist destination for people all around the world. With some of the best history, architecture and art that New England has to offer, thousands of people visit our city each year by land, air and sea. New Bedford has the top fishing port in the world that provides an infrastructure for cruise ships to dock and pour a hundred tourists into our city on a single visit. For 2012, there are 17 cruise ships scheduled to dock.
Businesses should consider accommodating these tourists and residents should welcome them with open arms. These visitors inject much needed cash into our economy. Businesses should consider adding extra staff, provide water and dog food outside their establishment, and ensure their staff are friendly and accommodating. New Bedford residents should be helpful and friendly. How we act as a city will have a lasting impact on future cruise ship schedules. Let's ensure that visitors leave New Bedford with a positive experience and want to visit our city again.
New Bedford Harbor Cruise Ship Schedule (Source: American Cruise Line)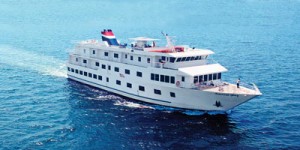 Tues, June 12, 2012
Mon, June 18, 2012
Sun, June 24, 2012
Sun, July 1, 2012
Tues, July 3, 2012
Sun, Jul. 8, 2012
Sun, Jul. 15, 2012
Sun, Jul. 22, 2012
Sun, Jul. 29, 2012
Sun, Aug. 5, 2012
Sun, Aug. 12, 2012
Sun, Aug. 19, 2012
Sun, Aug. 26, 2012
Sun, Sept. 2, 2012
Sun, Sept. 9, 2012
Sun, Sept. 16, 2012
Sun, Sept. 23, 2012