New Bedford police seek Acushnet Ave. 7-11 robbery suspect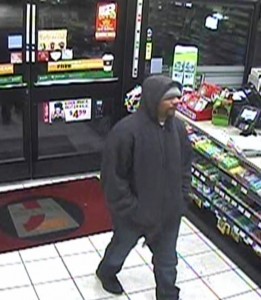 On Monday, January 12th, at approximately 3:20am the 7-11 at 1499 Acushnet Ave. was robbed by a lone male. The clerk was not harmed.
The suspect entered the store and demanded money from the register. He gestured towards his waistband saying he had a firearm but none was displayed.
He fled the store with an undisclosed amount of cash and was last seen running westerly on Coffin Ave.
Anyone with information is asked to contact Det. William Westgate at 508-991-6300 ext. 136 or call the Anonymous tip line at 508-961-4584.
Description:
Spanish speaking male, approx. 6ft. 2 inches, in his 30's, with a mustache/goatee.
Wearing a grey hooded sweatshirt, dark pants, and a winter hat pulled down to his eyes.