McDonalds' Story: From a Dumpster to a Loving Home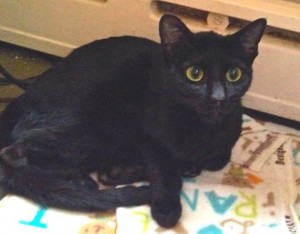 On October 23rd 2013, I was at Market Basket in New Bedford when a very nice, caring young lady approached my vehicle. She had seen the shelter sign on the side of my car. She told me she had seen a very skinny cat with a hurt leg at the dumpster. I followed her to McDonalds and sure enough there was a very thin cat with a hurt leg. I took the cat to the vet. She was estimated to be only 7 months old and was severely emaciated. I was told she would not have made it through the cold weather.
Now named McDonalds (I know funny name for a female cat). She is improving day by day, no longer vomiting and is maintaining small bits of food. She has gained weight slowly, although you wouldn't think so if you saw her. She still has a little limp but her muscle strength is improving. She is now climbing a cat post and playing with toys. She is doing VERY well and is very happy being indoors, in a very warm shelter, on fluffy blankets.
Thank you to all those who have shared McDonalds' story and to the kind, young lady who helped save her life by approaching me.
To help us in supporting McDonalds' ongoing care and to help us save cats like McDonalds, please consider donating to our cat shelter. As a non-profit 501c3, we solely rely on generosity and donations from the public.
Sincerely,
Pam Robinson
President/Founder
It's All About the Animals
103 Marion Rd.
Rochester MA 02770
(508)-763-2035
www.itsallabouttheanimalsinc.com
https://www.facebook.com/pages/Its-All-About-The-Animals-Inc/283871911634882