On July 23, 2015 at about 2:00 a.m., a marked state police cruiser was on patrol in the vicinity of Forbes Blvd and Route 140 in the town of Mansfield. The trooper heard a loud noise that came from behind his cruiser as he was approaching a traffic signal. He additionally saw a large amount of white smoke in the area of where he heard this noise, just several feet from his cruiser.
The trooper reversed direction and observed a white male wearing light colored clothing in the wood line. The man ran into the woods, heading in the direction of the Super Stop and Shop.
A search of the area where this man was positioned resulted in the discovery of a Thompson Triumph .50 caliber muzzleloader with a 28" Weather Shield coated barrel, a Redhead brand backpack and hunting cap. These items are believed to have been left by the man who fled into the woods.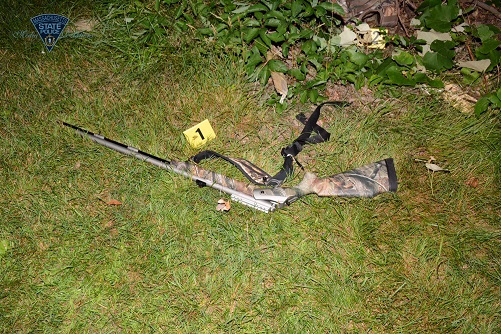 An extensive search of the immediate area for the suspect was conducted by the State Police, Mansfield Police and Foxboro Police with negative results.
We are continuing to pursue investigative leads in this case. If anyone has any information related to this incident, please contact the State Police at 508-961-1928.