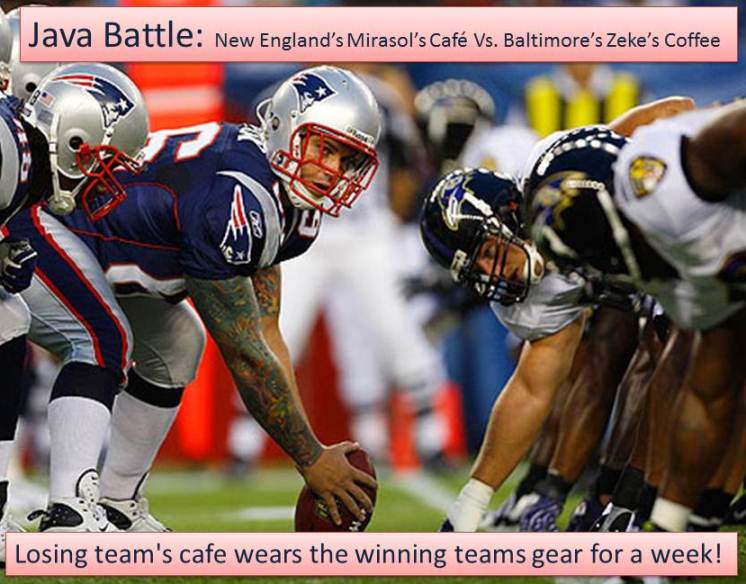 This Sunday at 3pm EST the Baltimore Raven's will face off against the New England Patriots in the AFC Championship game. The winner moves on to play in the Super Bowl and the loser gets to watch the Super Bowl from the couch. The game also has consequences for two small, regional cafes.
Richard Romero, the owner of Mirasol's Cafe, has put out a challenge to Zeke's Coffee Shop in Baltimore, Maryland. Zeke's accepted the challenge.
The losing team's cafe must were the winning team's gear (shirts, face-paint, pants, etc.) for a full week beginning on Sunday, January 29th through the conclusion of the Superbowl. The losing team's misery doesn't stop there. A picture of the losing team wearing the gear will be taken and displayed in both cafes until the start of next year's NFL playoffs. Additionally, Mirasol's has agreed to serve Zeke's purple blended drink (their tribute to the Ravens) for the week leading up to the Superbowl.
There is an escape clause for the losing cafe that will benefit a local charity. If the losing team raises $500 from donations before the end of the painful week, and sends it to the winning team's charity of choice, the losing team can STOP wearing the offensive shirts and donate the gear to the winning teams local Boys & Girl's Club. Mirasol's Cafe has selected is the Dartmouth Education Foundation as their charity. We are still waiting on Zeke's Coffee for their charity selection.
If you'd like to back Mirasol's Cafe and pledge some financial support, you can contact Richard Romero at info@mirasolscafe.com. If you'd like to talk smack head over to Zeke's Facebook.