The South Coast Hot Jobs List – 05 November 2015
The Greater New Bedford unemployment rate is much higher than the rest of Massachusetts, but believe it or not there really are a lot of available for qualified applicants. Sometimes the barrier to a new job can be the lack of information on available job openings.
To solve this, each week New Bedford Guide will pull jobs from our jobs database to inform job seekers about the hottest jobs in the area.
We will define "Hot Jobs" as those jobs that need to be filled by the employer immediately. For those looking to search some large job databases, checkout my Best Job Search Resources for New Bedford Residents article.
---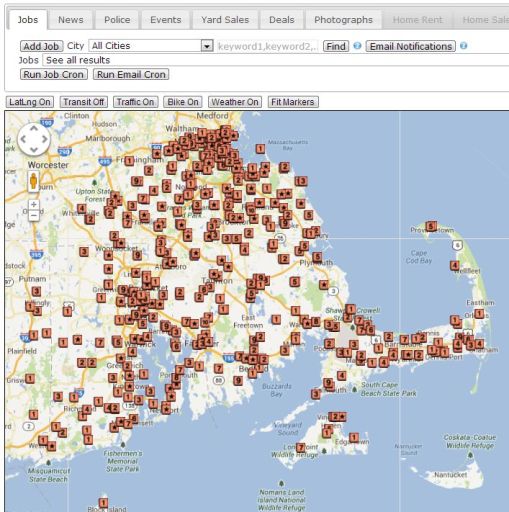 Here are the Hot Jobs in the New Bedford area from the NewBedfordGuide.com jobs database, as of November 05, 2015:
01. Sales Associate – General Nutrition Centers (Fairhaven)
As the nutrition and wellness destination for our customers, our Sales Associates must possess a curiosity and eagerness to solve the customers' needs, develop and foster long-term, trusting relationships, and share information regarding, health, fitness and nutrition. To ensure your success, you will be supported with an intensive training program to help you achieve great results. You will have the opportunity to develop your communication skills, detail orientation and to build on your natural talents and strengths in a high-energy environment. Full job descriptions here.
02. HVAC Service & Installation Technician
Brodeur & Sons, Inc., is currently seeking EXPERIENCED HVAC SERVICE & INSTALLATION TECHNICIAN for an immediate opening. Oil burner license and CDL/Hazmat license a plus, but not necessary. If you are a hard worker with dedication to superior customer service, please call our office for an interview. We can be reached at 508-995-5151 or at phbrodeur@aol.com. Or stop by our office at 525 Church Street, New Bedford, MA 02745, office hours are Monday through Friday 8am to 4:30pm. Full details and application process here.
03. Maintenance Leader – ATI (New Bedford)
These positions will play a key role in a reliability centered maintenance organization. Duties will include the direct supervision of hourly employees, planning maintenance work around production schedules, Identifying, requesting and locating critical spare parts, coordinating repairs with contractors, Troubleshooting electrical, mechanical and hydraulic equipment and accessing required work to assure accuracy in scope to facilitate efficient work planning in a world class maintenance organization. Proactive with company safety initiatives. Bachelor's Degree in Engineering or equivalent experience in a manufacturing maintenance environment. Supervisory experience in a technical or manufacturing environment is a plus. Experience with metals processing is desired as is a strong technical and mechanical or electrical background. Full details and application process here.
04. Driver I – Autopart International, Inc. (New Bedford)
At Autopart International, the primary responsibility of a driver is to deliver and pick up auto parts from suppliers and customers. Additional duties include putting stock away and keeping the warehouse clean and well organized. Full details and application process here.
05. Machine Operator/Warehouse/Production – Spherion
$12.00 – $12.50 an hour. Interested in working at Acushnet Company? We have many positions available to start ASAP and in the coming months! Must be quality conscious and detailed oriented so they can continue to make the #1 ball in golf! Full details and application process here.
06. Hair Stylist – Shine (New Bedford)
We are looking for talented hair stylists who love their work! Come join our team and be a part of this growing salon! Commission or rent! Full details and application process here.
07. Manager-in-Training – Cumberland Farms (New Bedford, Dartmouth, Fairhaven, Acushnet)
This is an exciting opportunity where you will have the best training, support and resources from the first convenience stores in New England where we are committed providing customers with superior service.
The Manager-in-Training Program enables you to run a Cumberland Farms store using critical information from state-of-the-art Windows based computer systems. Full details and application process here.
08. Retail Sales Associate – CubeSmart (New Bedford)
Responsibilities: Provide exceptional service to our Customers and Sales leads over the phone as well as to walk-in Customers. Recommend appropriate unit sizes and services based on individual Customers' needs. Understand and explain the leasing process to Customers. Sell merchandise including packing / moving supplies and insurance to protect our Customers' goods. Operate POS system and take payments. Conduct daily visual and space audits of entire facility as well as perform lock checks. Prepare and make daily bank deposits. Full details and application process here.
09. Store Clerk – Part Time – Save-A-Lot (New Bedford)
The Retail Clerk (PT) is an entry-level position reporting directly to the store manager and may take direction from assistant store managers and shift leaders. This position is responsible for duties such as, but not limited to, cashiering, stocking, cleaning and monitoring perishables. The Retail Sales Clerk provides excellent customer service and assists in maintaining excellent store conditions. This position accomplishes all job duties in accordance with Save-A-Lot policies, procedures and Best Methods. Full details and application process here.
10. Waitress/ Waiter – Freestones City Grill (New Bedford)
An long established restaurant looking for waitstaff. Full or part time. At least one year experience, a team player, professional, neat, and knows how to smile. If you have the knack of keeping our guests happy and coming back for more we need to talk to you. Please send us your resume and your availability.Full details and application process here.
---
Be sure to also check out our Job Portal to find jobs by location on a map: newbedfordguide.com/map-page#pm_jobs_tab. Want to get e-mail notifications for new jobs? Checkout our e-mail subscription service.
---