The South Coast Hot Jobs List – 05 March 2015
The Greater New Bedford unemployment rate is much higher than the rest of Massachusetts, but believe it or not there really are a lot of jobs available for qualified applicants. Sometimes the barrier to a new job can be the lack of information on available job openings.
To solve this, each week New Bedford Guide will be working with the New Directions Southcoast (also known as the Greater New Bedford Career Center) and pulling jobs from our jobs database to inform job seekers about the hottest jobs in the area.
We will define "Hot Jobs" as those jobs that need to be filled by the employer immediately. For those looking to search some large job databases, checkout my Best Job Search Resources for New Bedford Residents article. Unless noted otherwise, those interested in these positions or want more information should go to the Greater New Bedford Career Center at 618 Acushnet Avenue.
---
Here are the Hot Jobs from the Greater New Bedford Career Center as of March 05th, 2015:
1. Class A CDL Drivers – Reinhart Foodservice (Featured Job of the Week)
Transporting products from our distribution center to our customer locations, the individuals we select will conduct pre/post-trip inspections, unload cased products from trailers to desired locations, and handle other duties as assigned. Widely respected as an employer of choice, Reinhart Foodservice is the nation's fourth-largest U.S. broadline distributor, and the largest family-owned distributor in the U.S. In addition to excellent pay, we offer the size, strength, stability, and resources to help you succeed; and with local routes that get you home daily, you'll enjoy the quality work/life balance you want, and the competitive compensation you deserve. New hires will enjoy competitive pay, corporate stability, great benefits and a $4,000 sign-on bonus.
For full job description and contact details, click here.
2. Human Resources Director #5382261
YMCA Southcoast is looking for an experienced professional to lead all aspects of the Human Resources department. The candidate will have proven success in developing and administering HR policies and practices in areas of compensation, benefits, training, relations, compensation and HRIS. Responsible for knowledge and adherence of government compliance programs, laws, and regulations pertinent to employment practices. This position reports to the President/CEO and VP/CFO and must possess excellent interpersonal skills to positively engage and develop the full and part-time staff team. Qualifications: BS degree in Human Resource Management, Business, or related field.
Deadline to Apply is Friday, March 20th
3. Sr. Home Health Care Manager #5382116
Looking for someone to manage and deal with the operations of an office for the Senior Home Care industry. Must have at least three to five years experience in the health management industry. Bachelors Degree preferred, but not required depending on experience. You will be involved in all the operations of hiring and scheduling of home assessment personnel.
4. Admissions Director #5382139
The Admissions Director is the on-site manager/supervisor of institute's admission office.
Maintains and provides communications with financial aid department, concerning follow-up with students and students' financial aid status. Weekly review of representative's inquiries, follow-up calls, written reports, and provide additional training and motivation. Daily review of inquiries, enrollments, admissions and financial aid appointments and class start follow-ups. Training and supervision of all admissions personnel to guarantee compliance with policies, procedures, deadlines, and goals.
5. Seasonal Laborers #5382169
Works under the general supervision of the DPI Commissioner. Cuts, trims and performs general care of lawn areas. Rakes leaves, prunes and trims overgrown brush. Provide labor service as directed in all DPI disciplines. Uses riding mowers, gas-powered lawn mowers, weed eaters, jackhammer, chainsaw, gas-powered snow blowers, and various hand tools. The physical demands described here are representative of those that must be met by an employee to successfully perform the essential functions of this job. New Bedford does have a residency requirement.
6. Sewing Machine Operator #5382186
We are seeking industrial stitchers to work at a privately owned manufacturing facility in Fall River, MA. This individual will use an industrial one needle sewing machine to make cushions. Successful candidates will have industrial experience as a stitcher and enjoy working in a fast paced environment.
7. CDL Class A Driver #5390574
Shift is 12:30am to 8:30am, Tuesday, Wednesday, Thursday and Friday. On Saturday you will be working from 5:00am to 3:30pm. Sunday and Mondays off. Must have at least 2 years experience. Making linen deliveries to hospitals, load and unload.
---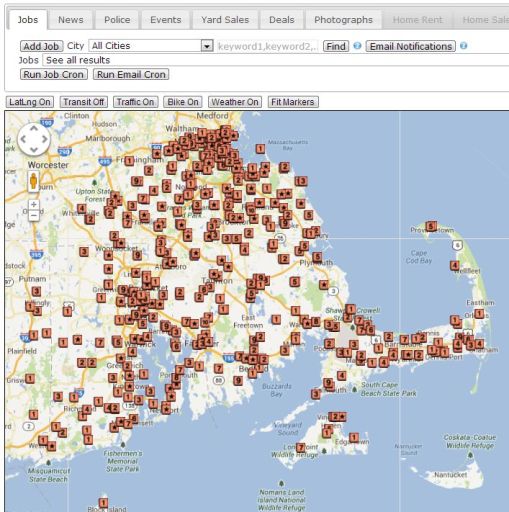 Here are the Hot Jobs in the New Bedford area from the NewBedfordGuide.com jobs database, as of March 5th, 2015:
01. Teller – Citizens Bank (Fairhaven)
Full details and application process here.
02. Assistant Property Manager (New Bedford)
Full details and application process here.
03. Chemical Processor – AMETEK, Inc.
Full details and application process here.
04. General Manager – U-Haul (New Bedford)
Full details and application process here.
05. Interpreter, 2 Languages – St. Luke's Hospital (New Bedford)
Full details and application process here.
---
Be sure to also check out our Job Portal to find jobs by location on a map: newbedfordguide.com/map-page#pm_jobs_tab. Want to get e-mail notifications for new jobs? Checkout our e-mail subscription service.
---