The South Coast Hot Jobs List – 20 January 2015
The Greater New Bedford unemployment rate is much higher than the rest of Massachusetts, but believe it or not there really are a lot of jobs available for qualified applicants. Sometimes the barrier to a new job can be the lack of information on available job openings.
To solve this, each week New Bedford Guide will be working with the New Directions Southcoast (also known as the Greater New Bedford Career Center) and pulling jobs from our jobs database to inform job seekers about the hottest jobs in the area.
We will define "Hot Jobs" as those jobs that need to be filled by the employer immediately. For those looking to search some large job databases, checkout my Best Job Search Resources for New Bedford Residents article. Unless noted otherwise, those interested in these positions or want more information should go to the Greater New Bedford Career Center at 618 Acushnet Avenue.
---
Here are the Hot Jobs from the Greater New Bedford Career Center as of January 20th, 2014:
1. Hospitality Positions #5218113
TownePlace Suites by Marriott and Rosebrook Event Center Lafrance Hospitality Company (LHC) of Westport, MA is currently hiring for its newest property in Wareham, MA. The TownePlace Suites by Marriott is an 85 room hotel located at Rosebrook Place: a new, mixed-use development by the A.D. Makepeace Company just off I-495/I-195. The hotel, which will feature an adjoining function facility, is scheduled for opening in the early spring. LHC is looking for dynamic, motivated individuals to join this exciting new team in the following positions: Banquet Server, Breakfast Hostess, Night Audit, Housekeeping, Laundry Attendant and Front Desk Attendant. Interested applicants can apply directly at the Greater New Bedford Career Center for prescreening by completing an application or bring in a RESUME.  Employer has encouraged applicants to have a RESUME.
2. Product Demonstrators #5210004
Flexible scheduling- You decide when you work! Timely and Accurate payment – Always know when you're getting paid. Part time, Weekend shifts. Never too demanding of your time! * Benefits offered! #1# Talent Group is currently hiring Sales Professionals to host In-Store Promotions and Sampling Events. As a Sales Professional, you serve as a "brand ambassador" – demonstrating foods, electronics and general merchandise products to shoppers in local grocery stores and retailers.
3. CDL – Class A Drivers
$4000 sign on bonus for both Taunton and New Bedford . Transport products from distribution center to customer locations, conduct pre/post trip inspections,
unload cased products from trailer to desired customer location, and other duties as assigned. Drivers must be willing to operate a Tracscan unit and be able to lift and/or move up to 50 pounds frequently and lift and/or move up to 100 pounds occasionally. Excellent customer service and interpersonal skills are required. Qualifications include: High school diploma or equivalent preferred. Drivers must have a valid Class A CDL for interstate commerce with a minimum of 1 year driving experience with a Class A-CDL or equivalent military driving experience.
4. Housekeeper #5213951
Cleans all surface areas of utility rooms, linen rooms, attendant stations, public bathrooms and common dining rooms, including tables after meals, and kitchens.
5. Industrial Product Designer #5213952
Create computer models and rapid prototypes of footwear components in support of the Design and Development functions at FJ. Produce new models/concepts and refine existing products using 3D CAD software. Collaborate with Design staff to generate and develop golf shoe outsole concepts, upper designs, lasts, footbeds and product presentations. Travel to Taiwan Liaison office, china factory and various component vendors to complete engineering, testing & evaluation of new products. Attend footwear related shows to keep abreast of the latest developments.
6. Electrical-Mechanical Specialist #5218014
Acushnet Company– 3rd Shift – 11:00pm to 7:00am- Candidate must have the Ability to read, and interpret electrical, hydraulic, and pneumatic drawings Working knowledge and demonstrated ability of AC/DC circuit theory, electronics, PLC operation and programming, performing machine diagnostics, safe work practices and Windows based software Demonstrated ability to troubleshoot, repair and or replace air cylinders, hydraulic cylinders, motors, gear boxes, actuators, and other similar devices and components. Candidate should have their own trade related tools to perform required tasks. Qualifications Acushnet Company looks for in this position are an Associate Degree in Electrical/Electronics or 2 years of post-secondary school formalized Electrical/Electronics is required with a minimum of 1 year of relevant work experience. Or a minimum of 5 years of relevant work experience without the required schooling.
7. Per Diem Substitute Clerk Typist #5218016
Responsible for processing of student records, meeting Federal and State Special Education Laws, answering the phone, and responding appropriately to requests for information and directing calls. Computer literacy is essential with various programs such as IPass, MS Word and Excel. Candidate must have the ability to relate to students, parents and staff, have effective communication skills – verbal and written. The candidate should also be able establish and maintain effective work relationships with colleagues and supervisors based upon respect and commitment. Finally, the candidate must show demonstrated ability to set priorities and work with limited supervision and be capable of handling multiple tasks and paying attention to detail.
---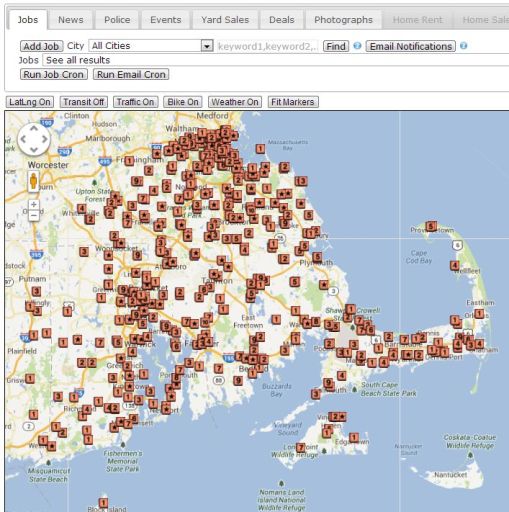 Here are the Hot Jobs in the New Bedford area from the NewBedfordGuide.com jobs database, as of January 20th, 2015:
01. Cashier – KMart (Fairhaven)
Full details and application process here.
02. CDL A Driver Trainee – Reinhart FoodService, LLC
Full details and application process here.
03. Registered Nurse – St. Luke's Hospital
Full details and application process here.
04. Deliver Phone Books – Alternate Postal Directory (New Bedford)
Full details and application process here.
05. Crew Member – Wendy's (King's Highway)
Full details and application process here.
06. Cashier – Petco (Dartmouth)
Full details and application process here.
---
Be sure to also check out our Job Portal to find jobs by location on a map: newbedfordguide.com/map-page#pm_jobs_tab. Want to get e-mail notifications for new jobs? Checkout our e-mail subscription service.
---