The South Coast Hot Jobs List – 26 December, 2013
The Greater New Bedford unemployment rate is much higher than the rest of Massachusetts, but believe it or not there really are a lot of jobs available for qualified applicants. Sometimes the barrier to a new job can be the lack of information on available job openings. To solve this, each week New Bedford Guide will be working with the New Directions Southcoast (also known as the Greater New Bedford Career Center) and pulling jobs from our jobs database to inform job seekers about the hottest jobs in the area. We will define "Hot Jobs" as those jobs that need to be filled by the employer immediately. For those looking to search some large job databases, checkout my Best Job Search Resources for New Bedford Residents article. Unless noted otherwise, those interested in these positions or want more information should go to the Greater New Bedford Career Center at 618 Acushnet Avenue. Be sure to also check out our Job Portal to find jobs by location on a map: http://www.newbedfordguide.com/map-page#pm_jobs_tab. Want to get e-mail notifications for new jobs? Checkout our e-mail subscription service.
If there is not a link to applying for one of the jobs listed, contact Sharon Martin, Business Services Representative at 508-990-4115 or feel free to stop by the Greater New Bedford Career Center. These positions are posted on mass.gov/jobquest.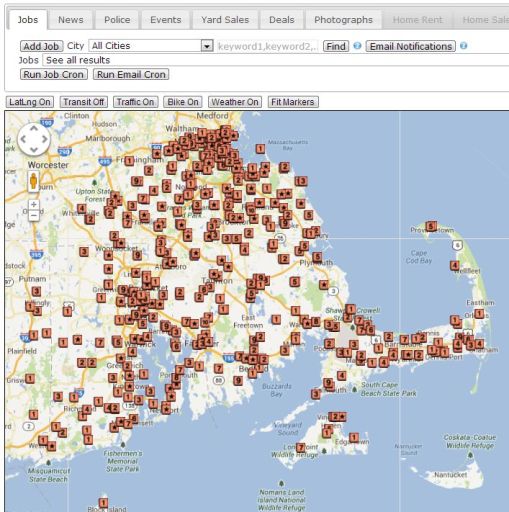 Here are the Hot Jobs from the Greater New Bedford Career Center as of December, 26th, 2013:
1. Sign Service Technician #3457104 – Poyant Signs is seeking a sign service technician. If you are motivated take pride in your work we need you. Work with a well-established company with a reputation for quality workmanship and great customer service since 1938.
Duties include service and maintenance of signs and commercial lighting. Troubleshoot problems, change lamps, neon, LED lighting, ballasts, sockets and wiring in a wide range of illuminated signage. Set up software and communication for LED displays. Sign experience is preferred but will train as long as applicant has basic electrical skills and computer skills. Must be willing to work at various heights, 10 100 feet and be willing to travel when needed. Out of town and overnights will be required depending on location. CDL preferred, but will provide training to obtain CDL. Pre-employment drug screening and background check required. Benefits include health, dental, 401K and vacation. Competitive salary based on experience.
2. Individual Support #3452928 – Part-Time 12 hours – Thursday 4 pm – 8 pm, Saturday 12 pm – 8 pm.
To provide direct care service to individuals with developmental disabilities living in supervised residential setting and o do so in a manner that promotes growth, independence and dignity for those individuals served.
Key Responsibilities:
Attend the daily needs of consumers on an individual basis as well as foster increased independence and self-determination.

Teach socialization skills and activities of daily living including household maintenance; self-care and hygiene; self-awareness and human development, menu planning, food shopping and preparation; money management skills/budgeting; transportation and community orientation; consumer skills; and utilization of community resources.

Record and appropriately utilize necessary data, daily progress notes, staff log and complete all other ISP and program required documentation.

Supervise and document self-administration of consumer medication as well as administer and document consumer medications as prescribed by a physician in accordance with agency and program procedures.
To succeed in this role you will have good time management skills, good writing skills and prior Human Services experience. A High School diploma/GED required. Six months experience in the field preferred. All applicants must be at least 21 years of age and have a CURRENT, VALID driver's license for three years. You also must be able to become First Aid, CPR and Human Rights certified within 90 days of employment and MAP certified within 120 days. Failure to obtain MAP certification will result in disciplinary action up to and including termination.
3. Occupational Therpaist #3452930 – Occupational Therapist on a consultative basis for adults with developmental disabilities. Experience conducting assessments, writing goals, running treatment groups and staff training. Flexible scheduling available. You must be able to successfully pass a CORI check and drug test. Experience with adults with developmental disabilities preferred.
4. Part-Time Security #3435121 – Seeking a mature, reliable Security Guard (previous experience preferred) for part time 2nd and or 3rd shift on (varied work days). Position will involve performing various security functions such as: patrolling grounds, monitoring incoming and outgoing traffic and product, etc. For immediate pre-screening and potential interview with the recruiter qualified candidates must complete an online application at the New Bedford Career Center.
5. Dean of Grant Development #3476954 – Direct the Grant Office and lead development of high quality grant applications that fund new program initiatives as well as the continuation, expansion and improvement of existing college programs aligned with the College's mission and strategic goals. Develop grant proposals that incorporate evidence-based best practices in teaching and learning in higher education; research and identification of grant resources; cultivation of positive relationships with funding program officers and community partners. Structure and lead planning processes that build consensus and result in competitive applications that are internally authorized and submitted in a timely manner. Provide technical assistance and training in grant development and implementation throughout the College community and assure that accurate records and archives of grant application documents are maintained from the initiation of the grant preparation cycle to the point of award and retained for future reference.
Qualifications:
Master's degree from an accredited college or university.

Substantial years in grant-writing and grant administration experience.

Substantial years of experience in secondary, post-secondary, governmental, or community-based organization educational programs.

Experience in project planning, consensus, and evaluation.

Excellent interpersonal, written, and verbal communication skills.

Ability to prepare and analyze budgets and financial reports.

Ability to work independently without close supervision.

Ability to maintain positive public relations with diverse groups both within the organization and in the community.

Ability to plan and prioritize projects, monitor and evaluate project implementation, and modify systems and procedures as needed.
6. Case Specialist #3475735 – Case Specialist I Duties:
Provides customer service to attorneys, litigants, law enforcement personnel, and the general public. This includes assisting the public in filling out forms and applications and responding to routine requests for information concerning cases, scheduling and court procedures. May use specialized communication skills in performing these duties;

Receives training and assists experienced users on MassCourts, a comprehensive, integrated case management system which features electronic filing of complaints, extensive docketing, scheduling, and management reporting; or on another case processing system;

Performs general case intake duties, including receiving court papers and documents, determining general case category, making docket entries, either manually or through an automated case processing system as necessary, and preparing case file folders;

Prepares manually or enters through an automated case processing system as necessary, complaints, petitions, summonses, warrants, daily lists, orders of commitment, other standard form documents, and updates to case information. Such functions may be performed in an office or in a courtroom;

Sends out notices to various parties and attorneys;

Answers incoming phone calls, routes callers to appropriate personnel, takes messages, and provides routine information in response to inquiries;

Copies, files, retrieves, and sorts court papers, documents and folders according to established procedures;

Receives, date stamps, sorts, and distributes incoming mail. Processes outgoing mail;

Performs cashiering duties, including receiving money, determining case type, making entries in the cash register or other system, validating case papers to reflect payments, and issuing receipts;

Maintains statistical data concerning cases processing activities;

Performs related duties as required.
Here are some jobs in the New Bedford area from the NewBedfordGuide.com jobs database:
1. Customer Service Associate – Cumberland Farms (Marion) – Full details and application process here.
2. Temp Lunch Monitor – Westport Middle School – Full details and application process here.
3. Executive Secretary to Principal  – Westport Elementary School. Full details and application process here.
4. Victim Advocate/ Educator – University of Massachusetts – Dartmouth. Full details and application process here.
5. School Business Administrator – Old Rochester Regional School . Full details and application process here.
Be sure to also check out our Job Portal to find jobs by location on a map: http://www.newbedfordguide.com/map-page#pm_jobs_tab. Want to get e-mail notifications for new jobs? Checkout our e-mail subscription service.