The South Coast Hot Jobs List – 24 April, 2013
The Greater New Bedford unemployment rate is much higher than the rest of Massachusetts, but believe it or not there really are a lot of jobs available for qualified applicants. Sometimes the barrier to a new job can be the lack of information on available job openings. To solve this, each week New Bedford Guide will be working with the New Directions Southcoast (also known as the Greater New Bedford Career Center) to inform job seekers about the hottest jobs in the area. We will define "Hot Jobs" as those jobs that need to be filled by the employer immediately. For those looking to search some large job databases, checkout my Best Job Search Resources for New Bedford Residents article. Unless noted otherwise, those interested in these positions or want more information should go to the Greater New Bedford Career Center at 618 Acushnet Avenue.
Interested in any of the positions listed below, please contact Sharon Martin, Business Services Representative at 508-990-4115 or feel free to stop by the Greater New Bedford Career Center. These positions are posted on mass.gov/jobquest.
Here are the Hot Jobs as of April, 24th, 2013:
1. Part Time Office Help #2220661 – Basic duties include, but are not limited to: Entering client data into databases, scanning, electronic filing, shredding. Skills required: aptitude for learning new computer programs, attention to detail and accuracy a must, organized, able to maintain strict confidentiality, able to pass security clearance. We require someone dedicated to working in a confidential environment. This position offers growth in both hours and responsibilities. Of the 10 hours 4 hours are on Thursday.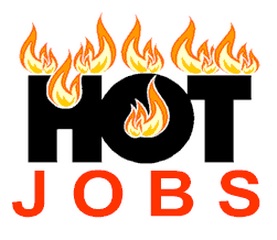 2. Registered Nurse #2235288 – Greater New Bedford Community Health Center seeks a float nurse with urgent care experience. Desirable part-time flexible schedule, Saturdays required. Competitive compensation.
MA RN licensure.
1. Registered Nurse with current Massachusetts license, BSN preferred.
2. 1-2 years experience in community health and/or triage nursing preferred.
3. CPR certification (with AED) required. ACLS desirable.
4. IV experience preferred.
5. Bilingual preferred.
3. Accounts Payable Clerk #2228359 – Reviews all invoices for appropriate documentation and approval prior to payment. Prints and obtains signatures on all accounts payable checks. Maintains all accounts payable reports, spreadsheets and corporate accounts payable files. High School Diploma, Word, Excel. Temporary: Temp To Hire.
4. Accounts Receivable Clerk #2228363 – Generate and send out invoices, follow up on, collect and allocate payments, carry out billing, collection and reporting activities according to specific deadline, perform account reconciliations, monitor customer account details for non-payments, delayed payments and other irregularities, research and resolve payment discrepancies, generate age analysis, review AR aging to ensure compliance. High School Diploma, Word, Excel. Temporary.
5. Plumbing Service Technician #2238221 – Plumbing Service Tech needed for top rate SERVICE shop. Must be neat, clean and able to pass drug and background check. A commitment to the customer a must. Mass journeyman plumbing license.
6. Seasonal Drivers #2250747 – Qualifications include:
– Minimum age of 21 years old
– Clean driving record
– Drug screen, background check, physical required
– Customer Service Skills
– No equipment necessary
– One year commercial driving experience within past 3 years strongly preferred
– Minimum of six months experience driving a like-sized commercial vehicle within the last three years is required.
-Hours 25+.
7. Faith Coordinator #2238227 – Bridges to Faith Network. Develop connections for persons with developmental disabilities. Identify, develop, support and monitor volunteer faith companions in multiple faith communities. Attend monthly committee meetings. Maintain accurate documentation. Network with BTF members. 10 hours/week, @25.00/hour. Apply to: Better Community Living, Bridges to Faith Committee, 5 Ventura Drive, N. Dartmouth, MA 02747 AA/EOE
8. 7-D Van Drivers #2250802 – 7D Drivers needed to fill positions for travel in Dartmouth, Fairhaven, Fall River and New Bedford. Must have 7D license, must pass CORI & Drug test. Employer will train qualified applicant. Hours are split shift: 6:00am to 9:30am and 1:45pm to 5:45pm.
9. Irrigation Technician #2250883 – Must have knowledge of irrigation, installation and service. Must be dependable. Must have valid driver's license and at least three year's experience