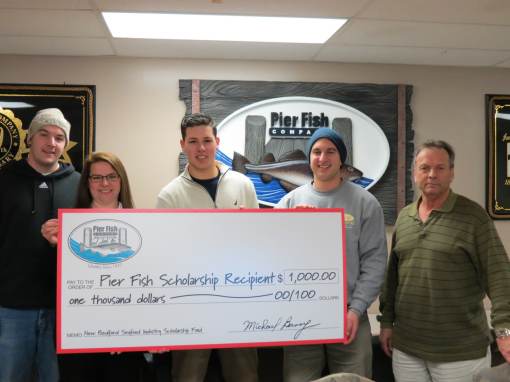 Downtown New Bedford, Inc. congratulates the recipient of the 2014 Pier Fish Seafood Industry Scholarship Award, Nicholas J. Cardoso, a graduate of Dartmouth High School. Nicholas has completed his first semester at Westfield State University. His mother is employed at Dockside Repairs and Eastern Fisheries.
Applications for the 2015 can be obtained in the personnel offices at area seafood processing plants and in the guidance offices at all greater New Bedford High Schools. The basic criteria is that the student be graduating from High School in the class of 2015 and be accepted into college and that a parent is employed in the local seafood industry.
Pier Fish has announced that they are renewing their commitment to fund their $1,000 scholarship for 2015. The Seafood Industry Scholarship Fund was created by Pier Fish Company, through their sponsorship of the Taste of SouthCoast Festival. The TOSC Festival and the PF Scholarship Fund are both organized and maintained by Downtown New Bedford, Inc. DNB, Inc. is a membership based, non-profit organization. Our goal is to continue to make Downtown a better place to live, work and visit. DNB's Executive Director, Diane Arsenault, states "the reason we organize two big food events, the Taste of SouthCoast and the New Bedford Seaport Chowder Festival, is two-fold: they bring thousands of visitors to New Bedford's historic waterfront to discover or re-discover what a gem we have here, and also to showcase the wide variety and quality of restaurants we have to offer in the Southcoast. The highlight of both the Taste of SouthCoast and the New Bedford Seaport Chowder Festival is the seafood, but many people comment on the international flavor and diversity of the food offerings. No one leaves these events hungry!"
Please contact Downtown New Bedford, Inc. for more information or to make a contribution: dnb@downtownnb.org or call 508-990-2777.
---