Texting While Driving Seminar at Fairhaven High School
October 10, 2017

-

October 13, 2017
Event Navigation
AP Insurance Group (Alexion-Pereira Insurance Agency) is proud to bring Distractology to Fairhaven High School during the week of October 10 – 13th. Developed and funded by the Arbella Insurance Foundation, Distractology was one of the first programs in the country to address distracted driving with young, inexperienced drivers. Drivers who have completed Distractology are proven to be 19 percent less likely to have an accident and 25 percent less likely to receive traffic violations*.
According to the CDC, 9 people are killed every hour and more than 1,000 are injured as a result of distracted drivers. Teens have the highest crash rate of any group in the United States. According to new research from the AAA Foundation for Traffic Safety, new teen drivers ages 16-17 years old are three times as likely as adults to be involved in a deadly crash. What's more, 86 percent of teenage drivers have driven while distracted, even though 84 percent know it's dangerous.
"Using your phone while driving triples your risk of a crash and the distracted driving problem keeps getting worse," said John Donohue, chairman, president and CEO of the Arbella Insurance Group and chairman of the Arbella Insurance Foundation. "It's our hope that by working together with new drivers, educators and parents, we can once and for all break the addiction so many drivers have to their mobile phones and create a new generation of safe drivers who believe distracted driving is unacceptable."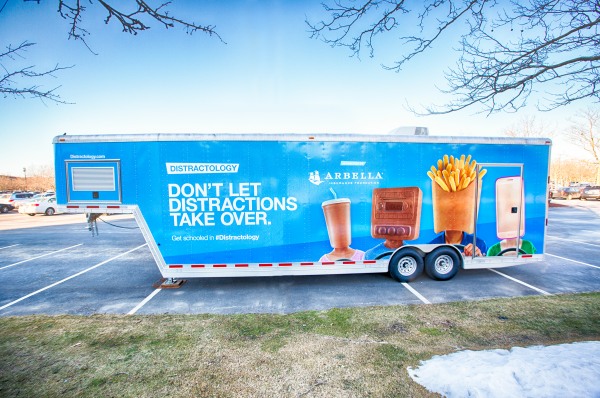 Distractology features a mobile classroom outfitted with two high-tech driving simulators designed to give new drivers the chance to experience the perils of distracted driving. Simulations are based on real-world examples, including texting, posting to social media sites like Facebook and Snapchat, and changing the radio all while navigating residential and highway conditions. This year, Arbella debuted a new scenario which prompts students to take a selfie behind the wheel. In 2016, there were more than 70,000 Instagram posts tagged #DrivingSelfie, #SelfieWhileDriving, #HopeIDon'tCrash, and other driving selfie-related hashtags.
To date, more than 13,000 new drivers, meaning those that have been licensed less than three years or have a learner's permit, have completed the Distractology training, with 96 percent willing to recommend it to their friends.
"Over the past 7 years, Arbella's Distractology campaign has made enormous strides in terms of combating distracted driving," said Manny Pereira of AP Insurance Group. "The program is proven to decrease accident rates by almost 20 percent for participating drivers and we're proud to support Distractology's important mission."
The Distractology curriculum and simulator are based on research funded by Arbella Insurance Foundation and conducted by the University of Massachusetts Amherst (UMass Amherst). Distractology, will travel to various communities in Massachusetts, Connecticut and Rhode Island during the 2017-2018 school year, offering 45 minutes of simulated distracted driving to each participant. Fully funded by the Arbella Insurance Foundation, Distractology is free to eligible drivers.
To sign up for the Distractology training, contact Kevin Dyer at AP Insurance Group at 508.992.3130.
__________________________________________________________
About the Arbella Insurance Group and the Arbella Insurance Foundation
Established in 1988, the Arbella Insurance Group (www.arbella.com) is a company with more than $800M in revenue with approximately $1.5B in assets, headquartered in Quincy, Massachusetts. Arbella is a customer-focused regional property and casualty insurance company, providing personal and business insurance in Massachusetts and Connecticut, and business insurance in Rhode Island and New Hampshire. Arbella Insurance Group founded the Arbella Insurance Foundation in 2004. The mission of Arbella's Foundation is to engage in activities and to support not-for-profit organizations that have a significant positive impact on the people and communities served by Arbella.
About AP Insurance Group (Alexion – Pereira Insurance Agency)
Alexion – Pereira Insurance Agency has been insuring the residents of Greater New Bedford for over 50 years. They are proud to be a part of this community and help residents and businesses find the insurance they need at affordable prices. They believe that quality and honesty should be the benchmarks of success, and pride themselves on client satisfaction—they are a business built on service and integrity.
* Results are based upon data obtained from Arbella Mutual Insurance Company's youthful operators who took the Distractology training when compared to those who did not from 2010 through 2014. The study showed that drivers were 19 percent less likely to have an accident and 25 percent less likely to receive traffic violations*
Related Events