If you are a New Bedford political junkie like me, you know that Steven Martins running for at-Large city council would have likely knocked out current at-Large Debora Coelho.
After pulling nomination papers and getting 50 signatures in 30 minutes two weeks ago, Former Ward 2 City Councilor Steven Martins decided not to file officially for New Bedford's October 1st at-Large City Council race. Coelho's chances of finishing in the top 5 went from not likely to more than likely. SHe can breathe a sigh of relief.
For at-Large City Council the top 5 vote-getters are elected to office. In 2017, Coelho finished at the bottom of the elected pack.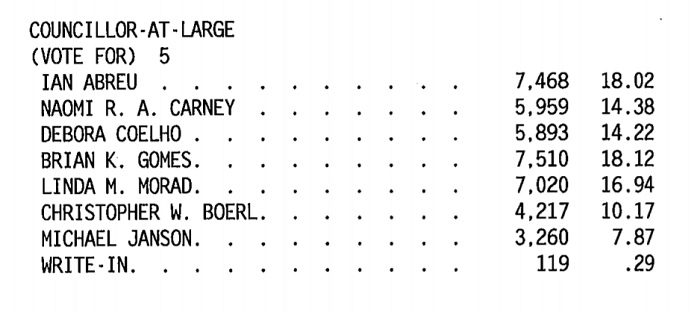 Finishing in the 5th spot makes your the "bubble" candidate – the one most likely to have been replaced if a stronger, well-known candidate had entered the race.
This year, Ian Abreu, Linda Morad, and Brian Gomes will finish significantly higher than Coelho. While Naomi Carney had a less than 100 vote advantage on Coelho in 2017, her son Sean Carney is running for Ward 4 City Council and will likely help the turn out for his mom. That makes Coelho the most vulnerable at-Large incumbent in 2019.
While Martins is out, there are six non-incumbents vying for a spot on the City Council as an at-Large candidate; Russell Dearing, Leo Choquette Jr., Paul Chasse, Carlos Felix, Lisa White, and Michael Janson. It's a much stronger field this year than in 2017 when only two non-incumbents ran. Let's see who emerges from the non-incumbent to challenge the bubble candidate Debora Coelho.