COVID-19 related deaths drops to three-week low in Massachusetts
Massachusetts Coronavirus Update
On April 27, the Massachusetts Public Health Department reported that the state added 1,524 more positive cases of COVID-19 bringing to total to 56,462. This is a decrease from Sunday 1,590 reported cases.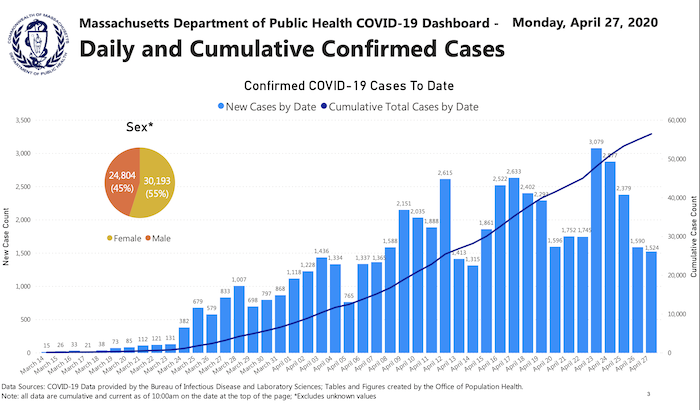 66 new COVID-19 related deaths were reported on Saturday bringing the total deaths in Massachusetts to 3,003. 66 deaths are the lowest number in three weeks. On Monday cases did rise to 104, but the trend does appear to be downward.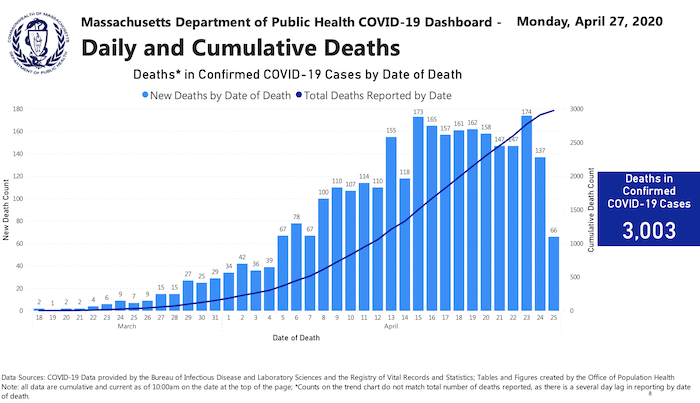 As of 4 pm today, 244,887 people in Massachusetts have been tested for COVID-19 – 8,787 new tests since yesterday.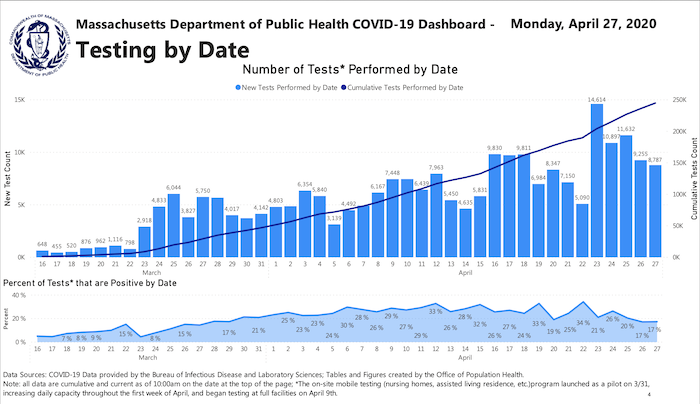 Gun rights activists staged a demonstration on Cape Cod on Saturday afternoon to protest Gov. Charlie Baker's refusal to include gun shops on the state's list of essential businesses that are allowed to stay open during the coronavirus pandemic. Full details here.
Boston plans to begin testing for antibodies to the coronavirus among asymptomatic residents in select neighborhoods in the city to get a better understanding of the prevalence of the virus. Full details here.
New Bedford Coronavirus Update
Mayor Jon Mitchell's office reported 62 additional confirmed COVID-19 cases in New Bedford Monday, bringing the total positive cases in the city to 503, up from 441 on Saturday. New Bedford health officials do not report COVID-19 numbers on Sundays. No new COVID-19 related death were reported, keeping the total at 13.
The New Bedford Police Department welcomed home Sgt. Ortega who is recovering from COVID-19. Full details here.
Fall River Coronavirus Update
Fall River reported 14 more confirmed positive cases of COVID-19 on Sunday. According to Mayor Coogan's Office, Fall River has seen 377 total positive cases. As of Friday, 149 cases have cleared isolation. Full details here.
Sarah Rebello, who co-hosts a conservative radio show in Fall River, organized a rally at Government Center to express what she feels is an unconstitutional lockdown.