COVID-19 cases in Massachusetts drop for third straight day
Massachusetts Coronavirus Update

On May 9, the Massachusetts Public Health Department reported that the state added 1,410 more positive cases of COVID-19 bringing to total to 76,743. This is a decrease from Friday's 1,612 reported cases.
138 new COVID-19 related deaths were reported on Saturday bringing the total deaths in Massachusetts to 4,840. As of 4 pm today, 376,537 people in Massachusetts have been tested for COVID-19 – 10,514 new tests since yesterday.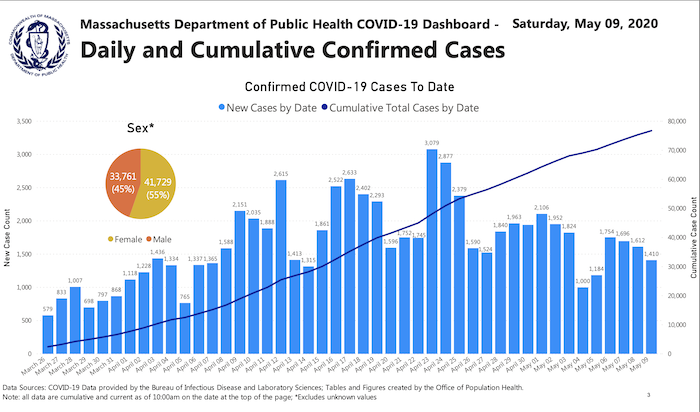 As of May 5, 32,019 individuals in Massachusetts were subject to quarantine with 22,148 no longer in quarantine. 9,871 individuals are undergoing monitoring/under quarantine.
New Bedford Coronavirus Update
New Bedford officials reported one more COVID-19 related deaths since yesterday or 11 deaths since last Saturday bringing the total to 30 in the city.
Mayor Jon Mitchell's office reported 98 additional confirmed COVID-19 cases in New Bedford on Saturday, bringing the total positive cases in the city to 1,042, up from 944 on Friday.
As of Thursday, none of the 26 people who have died from COVID-19 in New Bedford were under 50 years old and 98% of those who have died in Massachusetts have had at least one preexisting health condition. New Bedford's breakout by age here.
Fall River Coronavirus Update
26 additional cases of COVID-19 have been identified in Fall River for the second straight day. This brings the total in Fall River to 737. The Fall River Health Department is in contact with the individuals who have tested positive as well as their contacts. Full details here.