NBPD and Cops For Kids donate checks for local superstar Athyn Sousa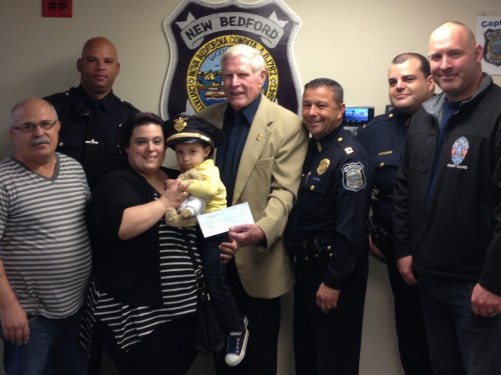 Cops for Kids has donated a total of $25,000.00 in New Bedford. Officer Bryan King of the Norton Police Department through Leal Fernandes Fund Memorial raised $5.000 for the Cops for Kids with Cancer Fund which, ultimately went to our local three year old resident Athyn Sousa. Officer Bryan King was also in attendance witnessing the benefits of his fund raiser.
Athyn Sousa was diagnosed on January 24, 2014 with stage four Neuroblastoma. Both his parents Susana and Luis Sousa have been traveling to Boston and Rhode Island hospitals with Athyn. This past June New Bedford Police Officer Alan Fonseca who is a volunteer Make A Wish Grantor became acquainted with Athyn and his family through the foundation. This past August he notified me of the Athyn Sousa and his family. I contacted my friend Robert Faherty and initiated the process.
When Athyn, his mom and grandfather arrived at the station on October 16, 2016 it was not immediately apparent that Athyn was suffering from any illness as he was a normal playful and at the onset shy boy. As the meeting progress his shyness wore off. His courage and innocent attitude was incredibly touching. Athyn is an inspiration to all of us. Cops for Kids with Cancer is an amazing organization which is comprised by all volunteers, no one is on the payroll. If you don't mind posting their website for any potential donations I will be very grateful.
To find out more about Cops For Kids With Cancer visit: http://copsforkidswithcancer.org/
Sincerely,
Capt. Joseph Cordeiro
ngg_shortcode_0_placeholder
---