Conwell Enterprises Donates Christmas Trees to Buttonwood Park Zoo's Animals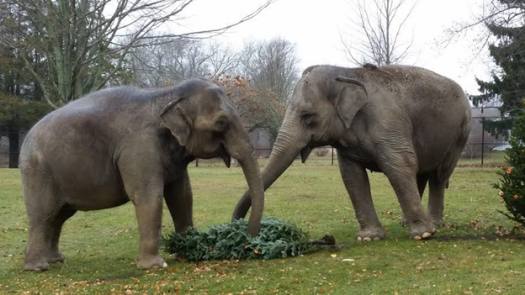 Where did your Christmas tree go? Thanks to Andy Fingado of Conwell Enterprises, the Buttonwood Park Zoo received its third annual Christmas tree delivery on Thursday, January 15th. Fingado frequented the Zoo when he lived in the area. After reading an article about a zoo in Germany giving their elephants left over Christmas trees, Fingado contacted the Buttonwood Park Zoo to determine if Emily and Ruth would benefit from a similar program.
Keith Lovett, the Zoo's Director, referred to this program as "a great community based effort that creates enjoyable enrichment for the zoo animals while also keeping discarded trees out of area landfills".
Not only will these trees be reused and repurposed in an environmentally friendly fashion, but they will also serve up a healthy dose of fun for many zoo species. The animals at the Buttonwood Park Zoo will have the chance to play, hide, destroy, toss, or even pounce on these trees instead of them being thrown away or ending up in a landfill. Zoo staff will find different ways that each species would benefit most from this unique type of enrichment being added to their environments. In addition to the elephant's enrichment, last year's donation added about 15 trees to the zoo's cougar exhibit allowing resident cougars, Nikki and Riley, the opportunity to scratch, hide, or climb amongst them. In addition to the elephants and cougars, the zoo's bears, bobcats, lynx, bison, coyotes, and many other species will get to enjoy these tree enrichment offerings.
---