Community Nurse to host 'Seasons' a reception to support the Memory Loss Program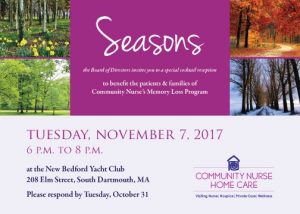 Chances are you know someone who is living with a memory loss diagnosis. Far too many in our community have been affected in some way by dementia and Alzheimer's diseases.
Community Nurse Home Care's Memory Loss Program is there to help those individuals and their loved ones through a difficult and challenging time.
Did you know that Insurance doesn't cover memory loss programs? In fact, most South coast cities and towns have rates that far exceed the national average of 11%, ranging from 14% up to 24%. This is a staggering statistic and most of these folks live in the community as opposed to a facility or nursing home.
Community Nurse Home Care provides guidance, support and education on this important topic. The program relies exclusively on public support and donations. On Tuesday November 7th at 8pm you can join them at the New Bedford Yacht Club; located on 208 Elm Street in South Dartmouth and help their cause.
If you think it's important to educate and empower local families, provide counseling and care plans, hope, and a lifeline, then this event can help make a difference for people in our community. Check out the link below for all the details and to buy tickets, or make a donation.
Check out the event page:
Click Here for Tickets:
https://cnhc.ejoinme.org/seasonstix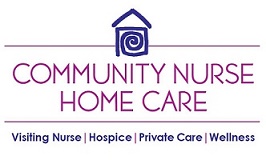 Community Nurse Home Care
62 Center St
Fairhaven, Massachusetts
Phone: (508) 992-6278
Website: www.communitynurse.com
Facebook: facebook.com/CommunityNurseHomeCare/