New Bedford man arrested for breaking and entering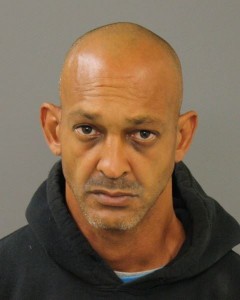 Shortly after noontime south end officers responded to a break in progress call in the area of Fair and Hall St. An alert neighbor spotted a male break a window to the home in the rear of the house and climb inside. The residents were not home at the time. Officer Jose Correia, first on scene, spotted the suspect through the first floor window and called for backup.
A perimeter was set up and K-9 Officer Dean Lawrence arrived with his dog, Loki. The suspect was found hiding in a third floor apartment.
It appears that during the perimeter setup, the suspect made his way up to the third floor and entered an apartment that was vacant and under renovation. Once inside the suspect locked the door behind him. He was taken into custody without incident. He is also wanted out of the state of New Jersey on probation violations for similar crimes.
Scheduled to be arraigned this afternoon in New Bedford district court; Jose Luis Alverez-Ruiz age 38 of New Bedford.
He is facing two counts of Breaking and Entering a dwelling in the daytime with the intent to commit a felony.