New Bedford teachers agree to new labor contract
At a press conference today at Sgt. William H. Carney Academy, Mayor Jon Mitchell and members of the School Committee joined with New Bedford Public Schools Superintendent Pia Durkin to announce the parties have reached a new labor contract for New Bedford teachers, ratified by the New Bedford Educators Association, subject to approval of the New Bedford School Committee.
Thursday evening, New Bedford teachers voted to ratify the three-year contract, which will provide more planning time to elementary classroom teachers and result in the hiring of more music, art, physical education, health, and technology specialist teachers across the district, meaning weekly access to these important classes for all elementary students in the city.
Since 1975, elementary schools in New Bedford have released early on Fridays, leaving city students behind as the only children in a public school district in Massachusetts without a full week of school, and denying their access to art, music, physical education, health, and technology.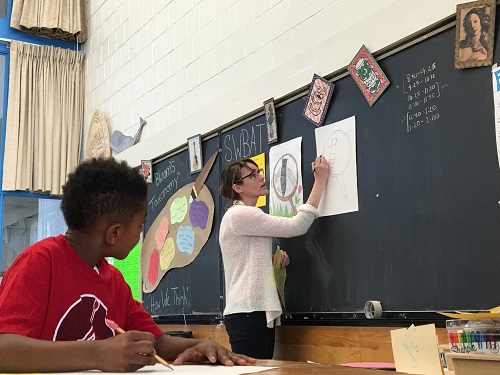 "This is a landmark agreement that provides expanded learning time for our elementary students including more physical education, art and music. The contract also provides elementary school teachers more common planning time which is to be led by their fellow teachers. Our students and their parents deserve full days of learning, this agreement enables that and I am grateful to the teachers for their support," said Mayor Jon Mitchell.
Superintendent Pia Durkin said the New Bedford Educators Association made history in the city with their dedication to providing more to the children of New Bedford.
"With this contract, our kids finally have a full week of school and the art, music, health, technology and physical education every week – just like students in other districts across the state," said Dr. Durkin. "We commend the hard work of the New Bedford Educators Association and its leadership, and of all NBEA members, in supporting the children and teachers of this city with their vote."
Highlights of the new contract, which covers the period July 1, 2016 to June 30, 2019, include:
A full week of education for all elementary students: While in recent years Parker, Hayden-McFadden, Renaissance and Gomes elementary schools have gained a full week of school for all students, the remaining elementary students in New Bedford have not. Fridays will no longer be half-days at the city's elementary schools, and students will now have weekly access to art class, music, physical education, health, and technology classes.
Teachers receive an increase in planning time: Teachers at the elementary level will now receive more time dedicated to planning together, a collaborative way of working together that benefits both students and teachers.
Teacher-led professional development: Teachers will now have the ability to design and deliver professional development to their fellow teachers and colleagues.
Compensation and benefit increase for teachers: The three year contract beginning July 1, 2016 and ending June 30, 2019, will include:

Beginning July 1, 2016: eliminate Step 1; increase Steps 2-12 by 1.75%; add Step 13, at 2% more than the Step 12 current rate.
Beginning July 1, 2017: increase Steps 2-12 by 1.75%; increase Step 13 by 2%
Beginning July 1, 2018: increase Steps 2-12 by 1.75%; increase Step 13 by 2%