New Bedford's Zeiterion stage will be dark through August 2
We cherish the traditions at The Z, from the annual The New Bedford Folk Festival to the summer Broadway musicals by New Bedford Festival Theatre. But unfortunately, the next several of months will mean a change in some long-held traditions. We are committed to keeping our city and each other safe, and have decided to cancel or reschedule all performances through August 2.
This is a time of immense shared loss, throughout our city and the world. The Zeiterion and its resident companies, The New Bedford Symphony Orchestra and New Bedford Festival Theatre, will bear financial losses, reductions in staffing, and most heartbreakingly, the loss of our ability to gather and share in the magic of live performances.
Though our stage will remain dark through early August, our commitment to our mission will burn brighter than ever. We will work tirelessly to bring you glorious work by incredible artists, and continue to find safe ways to connect until we can be together again. Thank you for all you do to keep the magic alive at The Z. Be safe. We'll see you soon!
With this pause in revenue from performances and programming, your support plays an even bigger role. How can you help? You can become a member, buy a gift card or make a tax-deductible donation to support the non-profit Zeiterion Performing Arts Center during this time of uncertainty. Thank you!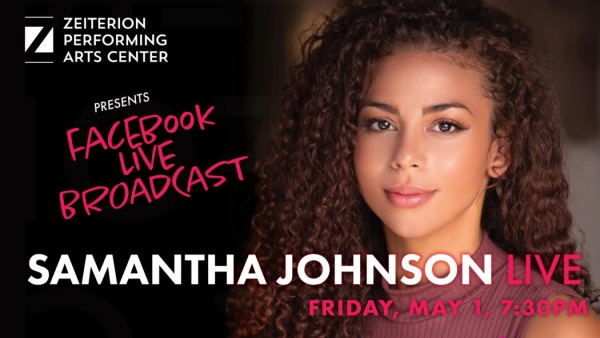 Samantha Johnson's performance will help raise money for Southcoast Health's Covid relief efforts! Find out more about this special event here.
Performance Update
For the health and safety of our audiences, artists, volunteers, and staff, we have postponed or cancelled all performances through August 2. Stay tuned to The Z's Facebook, Instagram and web site for the most current information. We know, like us, you believe the show will go on!
• A LEAGUE OF THEIR OWN April 6 screening cancelled
• BOSTON COMEDY JAM rescheduled to August 20, 2020
• BUSTER KEATON DOUBLE FEATURE rescheduled to Sunday, August 30, 2020
• COLIN & BRAD: SCARED SCRIPTLESS rescheduled to Saturday, April 10, 2021
• DOO WOP XVIII: THE HITMAKERS rescheduled to Saturday, August 22, 2020
• EMISUNSHINE – Stage Door Live! reschedule pending
• FERRIS BUELLER'S DAY OFF June 1 screening cancelled
• GRACE MORRISON – Stage Door Live! rescheduled to September 17, 2020
• HE NAMED ME MALALA March 18 screening cancelled
• HOWIE MANDEL LIVE rescheduled to Tuesday, September 22, 2020 at 8PM
• INTERNATIONAL PORTUGUESE MUSIC AWARDS April 25 performance cancelled
• LLAMA LLAMA – LIVE! April 5 performance cancelled
• MARIZA reschedule pending
• MARK BITTMAN May 30 appearance cancelled
• MAX HATT AND EDDA GLASS – Stage Door Live! May 28 performance cancelled
• MONICA LEWINSKY presented by the NB LYCEUM May 15 appearance cancelled
• NATALIA ZUKERMAN – Stage Door Live! March 19 performance cancelled
• NB FESTIVAL THEATRE'S ANNIE reschedule pending to summer 2021
• NBSO: BREAKING BOUNDARIES March 14 performance cancelled
• NBSO: HAPPY BIRTHDAY LUDWIG! rescheduled to Friday, August 21
• NBSO: HAPPY BIRTHDAY LUDWIG! – matinee April 19 performance cancelled
• NBSO: THE FINNISH LINE May 23, 2020 performance cancelled
• NEW BEDFORD FOLK FESTIVAL July 11 & 12, 2020 rescheduled to July 10 & 11, 2021
• ON A WINTER'S NIGHT rescheduled to Friday, February 5, 2021
• ONE FUNNY MOTHER rescheduled to Friday, October 23, 2020
• RAIN: ABBEY ROAD rescheduled to Saturday, February 20, 2021 at 2PM and 7PM
• SCHOOLTIME performances through June are cancelled
• SELENA May 11 screening cancelled
• SEVEN April 2 performance cancelled
• STAR WARS MARATHON May 4 screening cancelled
• THE BEACH BOYS rescheduled to Tuesday, March 30, 2021
• THE COLOR PURPLE May 16 performance cancelled
• THE PEKING ACROBATS rescheduled to Friday, October 9, 2020
• ULTIMATE 70'S TOUR rescheduled to Thursday, October 2
Ticket Options
Do you have tickets for any of these recently rescheduled or cancelled performances? Let us know if you'd like to keep, exchange, donate, or refund your ticket here.