Massachusetts passes four thousand COVID-19 related deaths
Massachusetts Coronavirus Update

On May 3, the Massachusetts Public Health Department reported that the state added 1,824 more positive cases of COVID-19 bringing to total to 68,087. This is a decrease from Saturday's 1,952 reported cases.
158 new COVID-19 related deaths were reported on Sunday bringing the total deaths in Massachusetts to 4,004. As of 4 pm today, 314,646 people in Massachusetts have been tested for COVID-19 – 15,652 new tests since yesterday – the highest single-day total yet.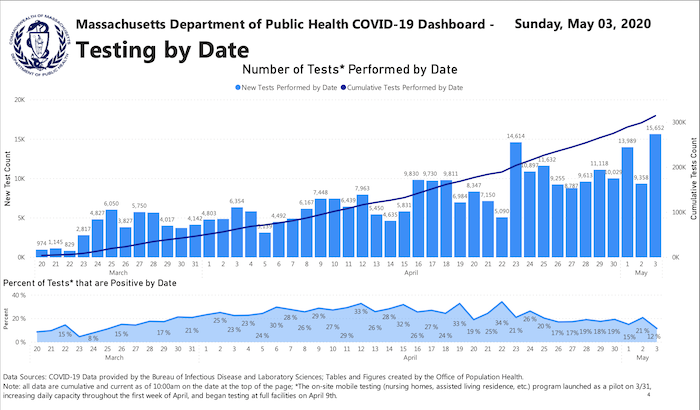 As of April 28, 27,939 individuals in Massachusetts were subject to quarantine with 17,659 no longer in quarantine. 10,280 individuals are undergoing monitoring/under quarantine.
The American Civil Liberties Union of Massachusetts and Congressman Joe Kennedy III are calling for an independent investigation into a Friday night uprising at the ICE detention center at the Bristol County House of Correction. Full details here.
New Bedford Coronavirus Update
Mayor Jon Mitchell's office Saturday reported 87 additional confirmed COVID-19 cases in New Bedford, bringing the total positive cases in the city to 712, up from 625 on Thursday. COVID-19 related deaths remained at 19 in the city. New Bedford health officials do not report COVID-19 related information on Sundays.
Fall River Coronavirus Update
28 additional cases of COVID-19 have been identified in Fall River. This brings the total in Fall River to 586. Full details here.