On Sunday, February 5th at 6:20pm EST, the New England Patriots will take on the New York Giants in Super Bowl XLVI in Indianapolis, Indiana.  New Bedford bars are gearing up to provide patrons the best experience possible. Here is a list of the best bars in New Bedford to watch the Super Bowl based on HD TV inventory, food/drink specials and capacity.
Rose Alley Ale House | 94 Front St. | New Bedford MA 02740 | (508) 858-5123
Number of TV's: 9 HD
Food Specials: All-you-can-tenders for $6.50 per person
Drink Specials: Beer Pitcher Specials
Capacity: 149
Win a $100 Rose Ally Gift card by playing our Super Bowl contest.
Knucklehead's Bar & Grill | 85 MacArthur Dr New Bedford MA 02740 | (508) 984-8149
Number of TV's: 15 HD, 5 Big Screen
Food Specials: Half Time Buffet, prizes and give-aways. 9-12pm late night pub menu: 25 cents wings, 50 cents flavored, $2 Cup of Chili with Chips, $1.50 Homemade Onion Rings, $3 Bacon Cheese Fries, two Chili Cheese Dogs for $3, and one topping pizza for $4,  two topping pizza for $5.
Drink Specials: Bucket of beer and cheese pizza: Domestic: $16, Foreign: $19. 50 cents extra toppings. Absolute Vodka Mountain Due for $3.
Capacity: 95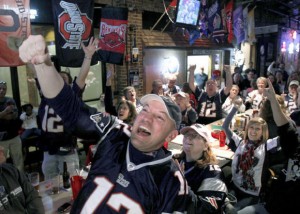 Strikers Sports Bar and Grille (Wonder Bowl) | 66 Hathaway Road New Bedford, MA 02746 | 508-993-1746
Number of TV's: 14 HD, including 115" Projection
Food Specials: Daily specials
Drink Specials: Beer specials every month
Capacity: 120
Hibernia Irish Pub | 109 William Street, New Bedford, MA 02746 | (508) 984-4423
Number of TV's: 16 HD
Food Specials: 25 Cent wings, all-you-can-eat
Capacity: 99
Pier 37 | 37 Union Street, New Bedford, MA 02746 | (508) 990-0117
Number of TV's: 4 HD
Food Specials: FREE half-time buffet
Capacity: 90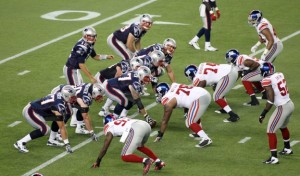 Endzone Sports Pub | 218 Coggeshall St. New Bedford, MA 02746 | (508) 997-7309
Number of TV's: 7 HD
Capacity: 100
Miller's Homeport | 24 Cove Rd New Bedford MA 02744 | (508) 992-1311
Number of TV's: 12 HD
Capacity: 99
Other Cities:
Ice Chest Bar & Grille | 136 Huttleston Ave. Fairhaven MA 02719 | (508) 992-BEER.
Number of TV's: 6 HD
Capacity: 196
Rasputin's Tavern | 122 Main St. Fairhaven MA 02719 | (508) 858-5490
Number of TV's: 8 HD
Food Specials:  Scallops and Steak $15
Drink Specials: $1 drafts, $3 shots
Capacity: 99