We're definitely starting to feel the summer heat as schools have closed their doors and AC units are being put to the test all throughout the Greater New Bedford area. Summer brings many favorite pastimes to mind; cookouts, vacations, outdoor concerts, festivals… and of course, the beach. Living in the South Coast makes us all a bit privileged in that we are never too far from the water. We are just a short drive from two of the east coast's premiere beach destinations; Newport and Cape Cod. However, you don't even have to journey thirty minutes or brave the treacherous summer traffic to cool off since we have a number of fine waterfront options right in the region.
If you grew up in Greater New Bedford then you are probably plenty familiar with the many beaches scattered along the shores. However, if you are a transplant to the area like myself, you may still be seeking new places to soak up the sun on your day off. Or perhaps you are planning on visiting New Bedford this summer and hoping to get in a swim during your trip. For New Bedford beach lovers new and old, I have put together a list of 5 beaches that are in the area that you might consider checking out.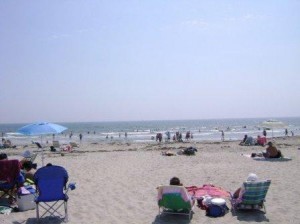 1. Horseneck Beach
Location: Route 88 Westport Point, Westport, MA 02790
Parking Cost: $8
I'm starting with the obvious here in saying Horseneck is probably the best beach in the South Coast. Located out on the peninsula of Westport, this beach is in a beautiful location that is well removed from the distractions of commercialism. For those of you who haven't been there, I will briefly explain what you can expect.
First, the water temperature at Horseneck is rather nice. Unlike some of the beaches you encounter as you move north, Horseneck water is rather warm (I was already swimming there in May.) Additionally, this is the beach to go to if you are a fan of waves. Whether you like body surfing, boogie boarding, or real surfing, Horseneck gets some decent swells that make it a fun place for water lovers. Horseneck Beach also has a bath house which makes it more accommodating than some places, and it has a snack shack for those looking to grab a bite to eat.
Horseneck Beach is fully staffed by lifeguards, so it is definitely a family friendly place. Rip tides aren't uncommon for Horseneck though, so know your swimming strength before getting too deep. There are only two small drawbacks to Horseneck that you might like to know. First is that on hot days it can and WILL get packed. While there are good sized parking lots to accommodate numerous beach goers, it is highly recommended you get there early and even still you can expect to be closely surrounded by other sunbathers the whole time. The second thing about Horseneck is that it's rocky. Not the whole thing, but there is usually a fairly hazardous strip of rocks you'll need to navigate over to get to the water. This isn't to say you'll need hiking shoes but it is a little rough on the bottoms of your feet, so be forewarned. Nevertheless, once you pass that obstacle the rest of the beach is quite soft and sandy.