The Kilburn Comedy Cove presents: Dave Sinclair, Derek Furtado and Mike McCarthy on Saturday April 6th
The Kilburn Comedy Cove invites you to a fun filled night of comic relief featuring hilarious local comedians Dave Sinclair, Derek Furtado and Mike McCarthy. Tickets are only $20, $10 with student ID. The Show starts at 7pm and there is plenty of Free Parking. You can get tickets HERE. The Kilburn Event Center is located at 127 W Rodney French Blvd. in New Bedford at the historic Kilburn Mill.
Want a chance for free tickets to the event? http://kilburncomedycove.com/giveaway/win-2-free-tickets-to-our-comedy-show/
Dave Sinclair has been involved in various forms of entertainment most of his life. He has done live theater, radio, television and movies. In the early 90's Dave co-wrote, co-produced and co-directed as well as portrayed the title character in Dr. Mongo's Midnight Movie on Providence's Fox 64. He had a supporting role in the 2011 independent film release "Footprints" currently streaming on Amazon Prime. Dave started performing stand-up comedy in 2013 and is a regular at the RI Comedy Connection. Dave has also has played at Foxwoods Casino, Catch A Rising Star, Rhodehouse Live @ Twin Rivers, Narragansett Theater in Narragansett, RI, Cape Cod Comedy Lounge, Dangerfield's in New York and various clubs and pubs throughout New England. In October of 2014, Dave entered the Funniest Comic On the East Coast Contest at Mohegan Sun and finished in the top 30 of 200 entrants. Dave has appeared with Brent Morin of NBC's "Undateable', opened for Late Night with David Letterman regular Eddie Brill and New England Comedy Legend, Steve Sweeny, as well as national headliner Bobbie Collins. Currently through Dave Sinclair Funny Productions he runs and hosts a weekly open mic at Mikey B's in New Bedford, MA.
Derek Furtado is a 6 time finalist of the Catch a New Rising Star Competition, 2012's Last Comix Standing Winner and writer of the Best Film in the 48 Hour Providence Film Festival 2012. Over the years Derek has been able to share the stage with such known comics as Otto and George, Robert Kelly, Donald Glover, April Macie, Patrice O'Neal, Craig Gass, Jo Koy, Gary Gulman, Dennis Blair, Mike Bonner, Myq Kaplan, Bruce Bruce, Arnez J, Tommy Davidson, Bob Marley, Billy Wayne Davis, Ralphie May and Kevin Hart. A contagiously energetic comedian from New England who has performed from one coast to the other. Derek's style of comedy brings uncomfortable moments to life with his attention to detail that will have you relieved you're not the only one who feels "that way." His honest humor and ability to reflect mannerisms back to the world around him comes from Derek's childhood growing up across the country on military bases. The perpetual first impression upon meeting new people has given Derek an uncanny ability to point out the quirks in us all.
Mike McCarthy has earned his nickname "The Comedy Barbarian" with his high energy, balls to the wall style of comedy. Mike got his start at Boston's legendary Comedy Connection in 1987, and within a year won the WBRU Funniest Man in Rhode Island contest. He has appeared on The Showtime network and Comedy Central and has toured up and down the east coast from Montreal to The Bahamas, honing his craft to razor sharp perfection. The Boston Globe called him "An Irish hurricane of hilarity" and he has developed a reputation as a true crowd slayer. Some comics make you laugh; Mike McCarthy will make you laugh until you cry.
Follow the event on Facebook: https://www.facebook.com/events/929693724088743/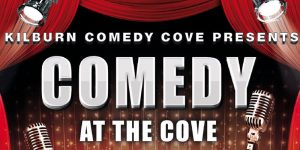 www.KilburnComedyCove.com
Kilburn Event Center
127 W Rodney French Blvd
New Bedford, MA 02744