Help beautify the Acushnet Sawmill during the Buzzards Bay Coalition's Community Stewardship Day on April 18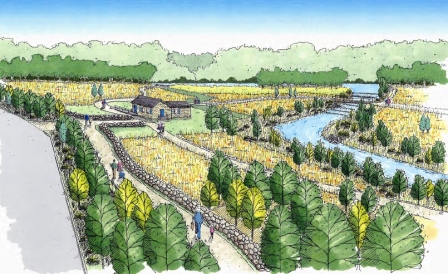 When: Thursday, April 18
Time: 9 a.m. to 4 p.m.
Where: Acushnet Sawmill (54 Mill Road, New Bedford)
Community members of all ages are invited to help the Buzzards Bay Coalition beautify the Acushnet Sawmill – site of a nature restoration project and future public park – during Community Stewardship Day on Thursday, April 18.
The Coalition is looking for volunteers to help clean up litter, clear fallen trees, and cut down invasive shrubs and vines. Volunteers can sign up for the morning shift (9 a.m. to noon) or the afternoon shift (1 to 4 p.m.).
At noon, lunch will be provided to volunteers during "Lunch and Learn," when Coalition staff will discuss the Acushnet Sawmill's history and unveil the restoration plans for the 19-acre property. The Sawmill is slated to open in summer 2014 as a public park with trails, a kayak launch, fishing access, and scenic overlooks of the Acushnet River. The Sawmill renovations will also help protect the river's health by reducing pollution and improving wildlife habitat.
Volunteers should dress appropriately for outdoor trail work and trash cleanup (e.g., closed-toed shoes, pants and long sleeves), and be prepared for ticks and poison ivy. If possible, volunteers should bring their own garden gloves and pruning shears.
Interested volunteers should RSVP so the Coalition can plan lunch and supplies accordingly. To RSVP or for more information, contact Kevin Farrell at Farrell@savebuzzardsbay.org or (508) 999-6363 x217.
To learn more about the Acushnet Sawmill, visit www.savebuzzardsbay.org/AcushnetSawmill.