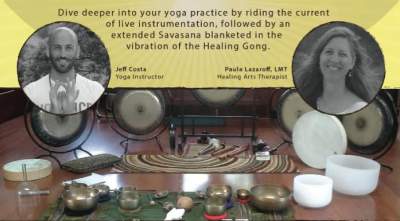 The ancient methods of Kripalu Yoga and Sacred Sound used together create a highly effective synergy that releases blocked energy and promotes a state of deep relaxation and balance, which leaves participants in touch with their body's inner wisdom.
Dive deeper into your yoga practice by riding the current of live instrumentation, followed by Savasana relaxation blanketed in the vibration of the Healing Gong.
Fitness in Cushman Park's yoga instructor, Jeff Costa, E-RYT 200 is a Yoga Alliance Nationally Certified Instructor and a graduate of the Kripalu School of Yoga and Health. He is the Fitness Director at Carabiner's Climbing and Fitness Gym in New Bedford. With 25 years experience in the fitness industry and a BA in Liberal Arts from Boston University, the strength of Jeff's teaching lies in his attention to detail and his compassionate approach to students' needs. Jeff's authentic voice and classical approach to alignment create a class environment, which engenders happiness, personal power, and peace of mind.
Paula Lazaroff, LMT is an energy based bodywork therapist and sacred sound healer. Sacred Sound Healing uses the inherent high vibration of instruments to invite healing into any activity. The vibrations of sound are "heard" not only through the ears but in every cell of the body, and helps put our body, mind and spirit back "in tune." Being "in tune" strengthens Life Force energy creating more clarity, vitality and harmony.
Attendees to the class should bring a mat and water. Classes take place weather permitting — cancellations will be posted on the FaceBook page: www.facebook.com/fitnessincushmanpark .
Fitness in Cushman Park is presented free to the public thanks to the generous support of our community sponsors.
For more information about the fitness program and "A Mid Summer Morning's Yoga Dream" or to sponsor Fitness in Cushman Park please call 508-287-2482.
---