A warm weekend is in store for us this weekend with temperatures hovering around 80 degrees all weekend long. In general it will be humid as is the norm for this time of year. However, clouds will characterize the entire weekend with a thunderstorm popping up on Saturday. Certainly nothing to slow us down from enjoying ourselves!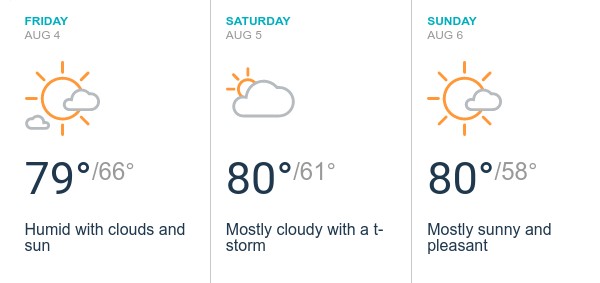 As always, click on the title for more or detailed information on the event. Most of the events were pulled from our event calendar where you can find hundreds of local area events each month. The event calendar is FREE, so if you are a local business, and not taking advantage of FREE publicity, shame on you! Are you a local business and want to sponsor this high traffic, weekend guide? Contact info@newbedfordguide.com for more details. Have an event to add? Add it here. Know of another event this weekend? Post a reply!
_____________________________________________________
Friday, August 4th
Krazy Days (10:00am-5:00pm)
Outdoor festival offers free entertainment for all ages! Located in the heart of Cranberry Country, just north of Cape Cod, Krazy Days is an annual street fair in the historic downtown business district of Middleborough. The festival features vendor booths showcasing arts, crafts, and food. Cultural events include hourly live entertainment by local talent. Enjoy creative, interactive and educational children's activities. Shop local businesses for unique festival offerings! Fun for the entire family!
Newport Jazz Festival 2017 (11:00am-7:00pm)
Founded in 1954, the Newport Jazz Festival® was the first jazz festival in America, and has been host to numerous legendary performances by iconic figures and contemporary geniuses. The event is a production of Newport Festivals Foundation, Inc. and is held annually over the course of three days at two of Newport's historic landmarks: the International Tennis Hall of Fame at the Newport Casino and Fort Adams State Park. Fort Adams State Park, Newport, RI.
Feast of the Blessed Sacrament (12:00pm-11:45pm)
The New Bedford Feast of the Blessed Sacrament, a.k.a. the Portuguese Feast, a.k.a. Madeira Feast is the largest event New Bedford has every year. More than that, it is the largest Portuguese feast in the world and the largest ethnic festival in New England. The feast was founded in 1915 by four Madeiran immigrants who wanted to recreate the festivities of their home island. For full schedule of events, times for live musical acts, and more read the 2017 Feast of the Blessed Sacrament Survival Guide .
Summer Sound Series: World Premiere Band (6:00pm-8:00pm)
Mayor Jon Mitchell presents the 2017 Summer Sound Series with FREE Concerts on the Pier Fridays! Bring your own chair, sit back and relax, or get up and dance! World Premier Band, featuring musicians with endless imaginations seeding the music of the 90's and today with funk, dance, originals and R&B. Port of New Bedford, 52 Fisherman's Wharf, New Bedford.
Rebecca Correia @ The Feast! (10:00pm)
RC takes the main stage Friday night! Be there!