The theme these past few weekends has been about humidity, clouds and occasional rain. While this weekend will have less precipitation that the past few, the clouds will persist. Temperatures will still hover around 80 degrees which is very comfortable. So, head out on the road and enjoy the many happenings across the SouthCoast and beyond.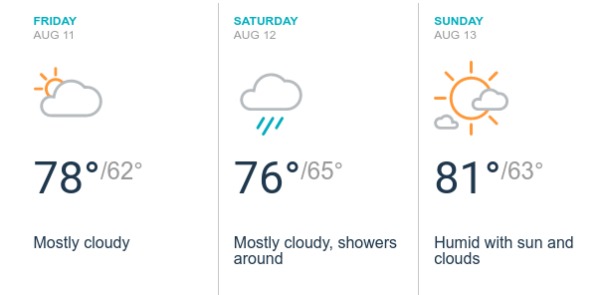 As always, click on the title for more or detailed information on the event. Most of the events were pulled from our event calendar where you can find hundreds of local area events each month. The event calendar is FREE, so if you are a local business, and not taking advantage of FREE publicity, shame on you! Are you a local business and want to sponsor this high traffic, weekend guide? Contact info@newbedfordguide.com for more details. Have an event to add? Add it here. Know of another event this weekend? Post a reply!
_____________________________________________________
Friday, August 11th
Boston Comic Con 2017 (4:00pm-9:00pm)
From Comics, Graphic novels, Anime, Manga, Sci-fi and Fantasy to Cosplay, Horror, Gaming, Toys, Movies and Television – BOSTON COMIC CON celebrates pop-culture fandom. Meet your heroes, attend celebrity guest panels and autograph sessions, and so much more. Join us August 11th to 13th at the Boston Convention and Exhibition Center in Boston for three days of family-friendly programming. There's something for everyone at New England's largest Comic Con. Boston Convention & Exhibition Center, 415 Summer Street, Boston, MA.
Summer Sound Series: Whiskey Affair (6:00pm-8:00pm)
Mayor Jon Mitchell presents the 2017 Summer Sound Series with FREE Concerts on the Pier Fridays! Bring your own chair, sit back and relax, or get up and dance! On August 11, Whiskey Affair covers acoustic and electric rock from then and now. Port of New Bedford, 52 Fisherman's Wharf, New Bedford.
Downtown Concert: Beatles Night 4EverFab (7:00pm-9:00pm)
Head to Downtown Taunton to enjoy Beatles Night with one of the greatest Beatles cover bands around! The DTF Food Truck will be serving dinner and snacks and the Downtown restaurants will be open before, during, and after the show. A limited number of chairs will be provided. Attendees are encouraged to bring chairs and blankets as well as bug spray. Taunton Green Historic District, 4 Court St., Taunton, MA.
The Portuguese Kids (9:30pm-10:0pm)
Don't miss The Portuguese Kids in Central Falls for the Madeira Club Festa! Come early and grab some delicious food! Show starts around 9:30pm. (Time slot subject to change). Club Sport Uniao Madeirense, 46 Madeira Ave., Central Falls, RI.