Outside of "a shower" on Saturday, we will have a dry weekend with pleasant temperatures. As Halloween approaches the mornings can evening eventually start to get brisk, even cold. However, that has not arrived yet. We'll hover around a low of 60 degrees in the mornings with day time termperatures averaging about 70 degrees. Who knows how many more weekends we'll have left with weather like this, so you'd better hit the road and enjoy the many going-ons around the South Coast and beyond!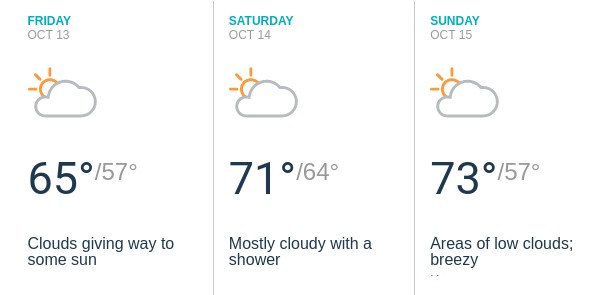 As always, click on the title for more or detailed information on the event. Most of the events were pulled from our event calendar where you can find hundreds of local area events each month. The event calendar is FREE, so if you are a local business, and not taking advantage of FREE publicity, shame on you! Are you a local business and want to sponsor this high traffic, weekend guide? Contact info@newbedfordguide.com for more details. Have an event to add? Add it here. Know of another event this weekend? Post a reply!
_____________________________________________________
Friday, October 13th
Lawler Branch Fall Story & Craft Time (3:30pm-4:30pm)
Bring you children, grandkids, etc. and enjoy some spring themed pictures books along with a craft activity they'll enjoy! Children of all ages welcome! Francis J. Lawler Branch Library, 745 Rockdale Ave., New Bedford.
Teen Horror Movie Night: The Ring (3:30pm-5:30pm)
Rated: PG-13, Runtime: 1 hr 55 min. A group of teenagers die seven days after viewing a video. A reporter sets out to find the truth and finds herself in the same scenario.
Lawler Library Teen Room, 745 Rockdale Ave., New Bedford, MA.
HoB Flashback Friday Night (7:00pm-10:00pm)
House Of Bricks Pro Wrestling is the best wrestling show on the SouthCoast. #FlashbackFridayNight is the third installment of the series. All tickets are only $10. Doors open 6pm and Bell time is 7pm. Lineup: HoB Heavyweight Champion "The Outlaw Moonshiner" J.b. Tickle, HoB Tag Team Champions Steven L Ust & Steven Broad, the Middlesex Express, for the HoB #SouthernNewEngland Championship will be El Poncho Ayala w/Kenny B Dunne vs Jammin Jack Conner and for the first time ever Teddy Goodz vs "R.I.O.T." Kellan Thomas. Moose Lodge 914, 119 Rockdale Ave., New Bedford, MA.
The Portuguese Kids (Hudson) (7:00pm-11:30pm)
The Portuguese Kids are back in Hudson, MA with their brand new show! Tickets can be purchased by calling 978-763-9207 or purchase online at portuguesekids.com! Food and drinks will be available to purchase throughout the event. Hudson Portuguese Club, 13 Port St., Hudson, MA.