The Working Waterfront Festival is pleased to announce the winner of our 2012 Design Contest – Jon Campbell of Narragansett, Rhode Island. Jon is well known to Festival audiences as a singer/songwriter, poet and all around wordsmith. "The Committee was impressed with Jon's creative approach to incorporating the 2012 theme Fishtales: Fact Fiction and Narrative Tradition" (Laura Orleans, Festival Director). Jon's design will appear on the Festival t-shirt, program guide, and poster.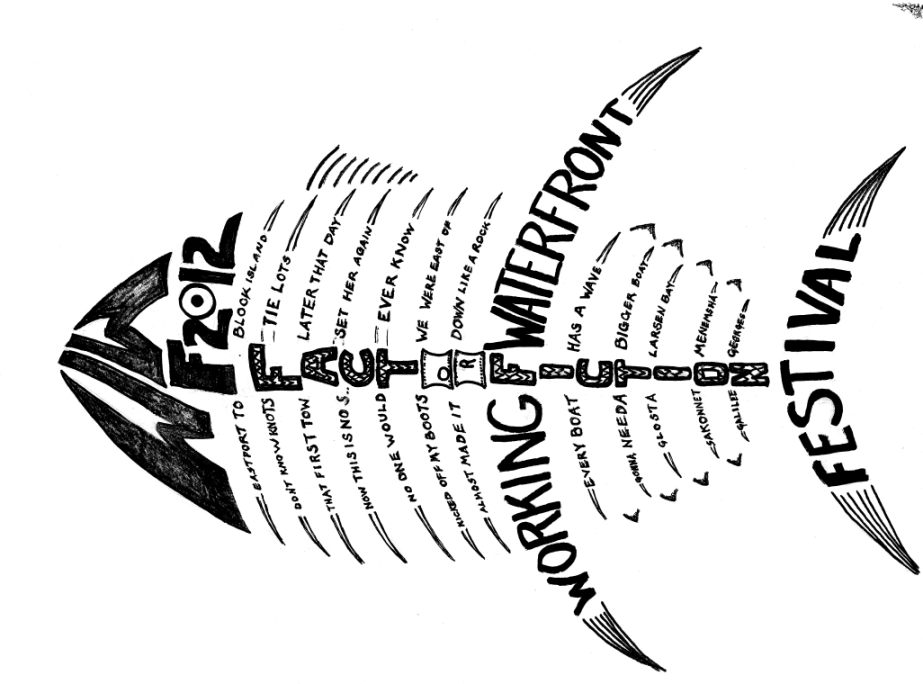 A modified version of the design also serves as the cover art for a newly released live recording of poetry and stories from the Festival. Jon is featured on the CD along with Festival favorites Dave Densmore, Geno Leech, Moe Bowstern, Bob Quinn, Charlotte Enoksen, and others. The 21 tracks run the gamut from poignant word pictures to hilarious parodies, but always delivered with wisdom and authenticity. The CD is available for purchase through the Festival's web site. All proceeds support the Festival and our year round programming.
The 2012 Festival will be held on the New Bedford waterfront September 29th and 30th.
The Working Waterfront Festival is a project of the Community Economic Development Center of Southeastern MA, a non-profit organization. The FREE festival, a family friendly, educational celebration of New England's commercial fishing industry, features live maritime and ethnic music, fishermen's contests, fresh seafood, vessel tours, author readings, cooking demonstrations, kid's activities and more. It all takes place in New Bedford, MA, America's #1 fishing port, on the last full weekend of September. Navigate to us at www.workingwaterfrontfestival.org.