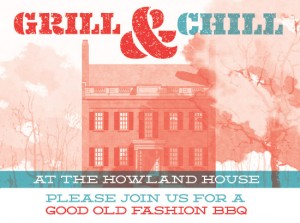 Do you love great food and great music?  Are you looking for something fun and relaxing to do this weekend?  If you answered YES, then we have the perfect idea for you – join WHALE for a good old fashion BBQ fundraiser – the Grill and Chill at the Howland House.
WHALE will be serving up a heaping helping of fun, food, and music at the Grill and Chill fundraiser on Sunday, August 14 from 4-8PM at the Howland House, 38 South Sixth Street in New Bedford.  The 1834 Howland House is WHALE's latest preservation project having been rescued from demolition and neglect in 2010.
What can you expect at the Grill and Chill fundraiser? Chill to the sounds of the Marcus Monteiro Trio & Grand Army  and check out the Howland House Phase 1A Stabilization firsthand. Come see for yourself what it takes to bring back this magnificent whaling merchant's mansion.
While you're chilling, WHALE will be grilling. BBQ fare includes ribs, hot dogs, hamburgers, linguica, and shrimp along with pasta salad, cole slaw, and garden salad. There will also be black bean burgers available upon request. Cash bar will be provided by Garnish & Drink.
Seating is limited so feel free to bring a lawn chair or blanket.  The event will take place rain or shine.  Tickets are $30 for WHALE members, $40 for nonmembers, and $15 for kids. Tickets include one complimentary beverage.
Proceeds from this fundraiser will benefit WHALE – saving endangered historic houses – like the 1834 Howland House – for nearly 50 years.
For tickets call the whale office at 508-997-1776 or go to www.waterfrontleague.org/donations to purchase your tickets online.